PSTDP Research Track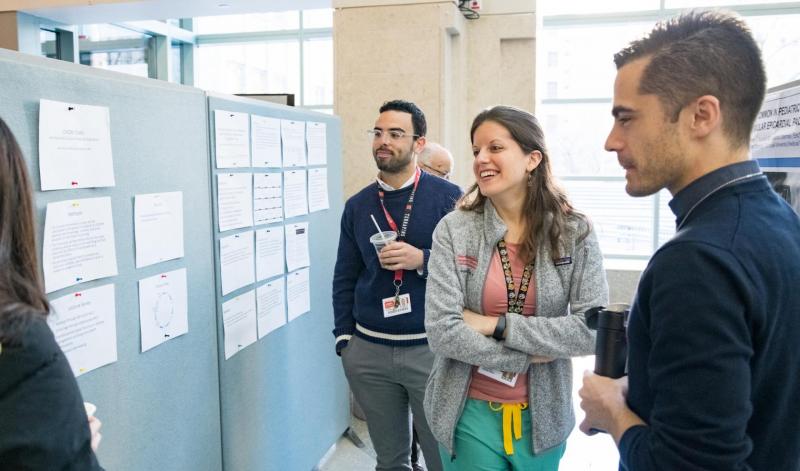 Pediatrician-Scientist Training and Development Program
Morgan Stanley Children's Hospital/Columbia University Vagelos College of Physicians & Surgeons is proud to offer a new research track for qualified candidates entering residency. The mission of this track, the Pediatrician-Scientist Training and Development Program (PSTDP), is to train the next generation of pediatric physician-scientists as both superb clinicians and leaders in the development of innovative strategies to improve child health. 
Through the PSTDP the Department of Pediatrics aims to recruit talented MDs or MD/PhDs committed to careers in research and pediatrics and to provide a comprehensive, personalized approach that supports participants' long-term success. The PSTDP will provide residents:
superb dual training in clinical pediatrics and research 
comprehensive mentoring in the clinical, education, and research realms
didactics focused on career development and research success
extensive research opportunities throughout the Columbia campuses
community building with renowned VP&S faculty and our nationally-ranked fellowship programs
Candidates applying to the PSTDP must have a combined MD/PhD or an MD degree and an established record of clinical or basic research experience. The most competitive candidates will have a strong commitment to a research career and an outstanding academic record. 
Program Description
The program currently accepts one resident each year to participate in the PSTDP. Participants commit to the American Board of Pediatrics-Integrated Research Pathway (ABP-IRP), a three-year residency training program that links to the categorical residency program for fulfillment of ABP requirements. The PSTDP provides more than 11 months of completely protected research time (with the exception of a half day per week of continuity clinic) during the latter part of residency, thereby preserving the crucial supervisory experiences of the clinical curriculum. Program commitments begin just prior to the official residency start date.
Curriculum
The PSTDP curriculum focuses on superior clinical and research training, personalized mentoring in the clinical and research spheres, and an unparalleled educational program.
Pediatrics Training 
Trainees will complete their internship and residency years in our nationally ranked categorical pediatrics residency program. 
Research Training
During their intern year PSTDP participants will begin meeting with physician-scientist faculty members/mentors, maximizing their exposure to their field of interest. Because an appropriate research environment is critical to participants' success, residents will have regular meetings, beginning in the intern year, with the PSTDP leadership and academic mentors to find the appropriate research environment.
Residents in the program will receive support in establishing a track record of scholarly activities, including participation in scientific meetings (stipends will be provided) and submission of research manuscripts to peer-reviewed journals.
Columbia University Irving Medical Center (CUIMC) researchers receive more than $400 million from the National Institutes of Health to support their work, and PSTDP participants are able to work in any lab at CUIMC including research labs in the Department of Pediatrics.
Didactics
PSTDP trainees can participate in a wide range of lectures focused on research in medicine. These include:
an annual physician-scientist research symposium where residents' work is highlighted
quarterly meetings with mid- and senior-level faculty in which faculty members discuss their research programs and career paths
regularly scheduled meetings with PSDTP leadership to foster discussion and resolution of barriers to physician-scientist training
a seminar series focused on critical aspects of career development 
seminars and lectures offered by the many science programs throughout the medical center
​Mentorship
The academic community is a cornerstone of career development in the PSTDP. Participants will have an individualized advisory committee that supports their matriculation through residency. This committee is charged with helping trainees identify appropriate research mentors, develop individualized training plans, set milestones, and track progress. PSTDP residents will also participate in group mentoring sessions with other research scholars led by senior investigators in the Department of Pediatrics.
Additional benefits
PSTDP residents have regular interactions with directors of all fellowship programs in the Department of Pediatrics. Learn more about our nationally-ranked fellowship programs.
Other Research-Based Program Pathways
Our pediatrics residency program offers resident physician-scientists options other than the PSTDP to customize their training to best support their long term goals. 
Categorical Pediatric Residency with Research Concentration (RC)
Residents not participating in the IRP can choose to pursue a research concentration. Residents on this pathway will have up to six months of strategically placed elective time to pursue a mentored project. 
Regardless of the pathway by which an applicant enters the pediatric residency program, all residents interested in research can participate in:
active clinical and research mentoring relationships
a personalized, experiential research experience
a didactic research-focused career development series
involvement in the program's vibrant physician-scientist community 
Application Process
Applicants interested in the PSTDP should use ERAS to apply to the Categorical Pediatrics Residency Program. Applicants who are selected to interview for the PSTDP will be notified by email and invited to participate in additional interviews with CUIMC scientists, in addition to the standard categorical program interview. These additional meetings will allow candidates to meet with potential investigators in their field, as well as members of subspecialty program leadership and current participants in the PSTDP and research-oriented programs.
Contact 
Sumeet Banker, MD, MPH
Interim Co-Director, Pediatric Residency Program
sb3789@cumc.columbia.edu
Candace Johnson, MD
Interim Co-Director, Pediatric Residency Program
cj2425@cumc.columbia.edu