Pulmonology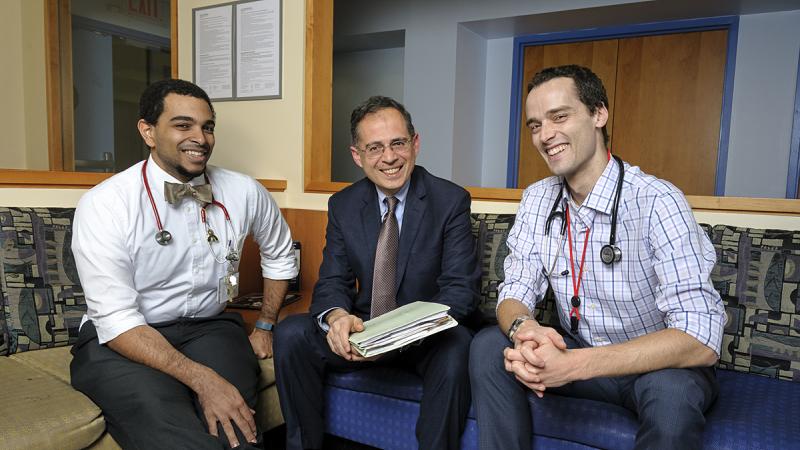 Overview
The mission of the Division of Pediatric Pulmonology is to provide exemplary evidence-based, multidisciplinary care to the most medically vulnerable children in the greater New York City area and beyond. In addition to our excellent clinical care, our division is committed to providing comprehensive training to the next generation of leaders in pediatric pulmonary medicine.
Clinical Services
Since founding one of the first pediatric pulmonology programs in the country over 40 years ago, we have been leaders in diagnosing and treating children and adolescents with a wide range of respiratory conditions. Our team includes nationally recognized programs and centers including:
We also have expertise in lung disease associated with premature birth, heart disease (pulmonary hypertension), interstitial lung disease, lung hypoplasia, recurrent pneumonia, primary dyskinesia and bronchiectasis. In addition, we offer high level care for children dependent on ventilators and other technologies.
Research
The division currently receives National Institutes of Health (NIH) and other research salary support for several of its faculty members, and members of the division hold a number of independent and mentored research awards, including K-level NIH awards. Division members have published primary and co-authored papers in many leading pulmonary and pediatric journals including, among others, Pediatrics, American Journal of Respiratory and Critical Care Medicine, Clinical Epigenetics, Sleep, Journal of Clinical Sleep Medicine, New England Journal of Medicine, Journal of Allergy and Clinical Immunology and Clinical Pediatrics.
Education
Pediatric Pulmonology Fellowship
The mission of the Pediatric Pulmonology Fellowship is to train fellows to become recognized leaders in the field by providing exemplary multidisciplinary, evidence-based care for critically ill children who are particularly vulnerable because of the complexity of their underlying illnesses. Fellows are exposed to patients with rhinitis, sinusitis, asthma, cystic fibrosis, neuromuscular disorders, acute and chronic respiratory failure, urticaria, angioedema, anaphylactic and anaphylactoid reactions, insect sensitivity, drug reactions, primary and secondary immunodeficiency diseases, sleep disorders and many other conditions.
Our program offers fellows a diverse training in clinical, administrative, educational, and research-based pulmonary medicine in a children's hospital with the third highest case mix index (CMI) in the nation. The fellowship training program is fully accredited by the ACGME, and currently accepts one new fellow each year. Our many past fellows are now spread throughout the country primarily in top academic institutions, including Montefiore/Albert Einstein College of Medicine, the Cleveland Clinic, Hackensack University Medical Center, Children's Hospital of Philadelphia, NewYork-Presbyterian Hospital/Weill Cornell and Children's National. In addition to the standard three years of training, the fellowship fully supports the career advancement needs of its individual fellows.
History
Columbia has a long history related to pediatric pulmonary disease. In 1938, Dorothy Anderson, a pathologist at Columbia, was the first to publish a description of cystic fibrosis (CF). Dr. Paul Di Sant'Agnese recognized that babies with cystic fibrosis were at high risk for heat prostration during a heat wave, which led to the development of the sweat test that we still use for the diagnosis of the disease. Dr. Carolyn Denning was the first CF Center director to use an interdisciplinary approach to manage the disease. The rich history of cystic fibrosis at Columbia led to the establishment of one of the first pediatric pulmonary divisions in North America under the leadership of Dr. Robert Mellins. In 2007, Dr. Meyer Kattan was recruited to head the Division and Dr. Lamm joined him, establishing a Sleep Disorders Program.