Clinical Genetics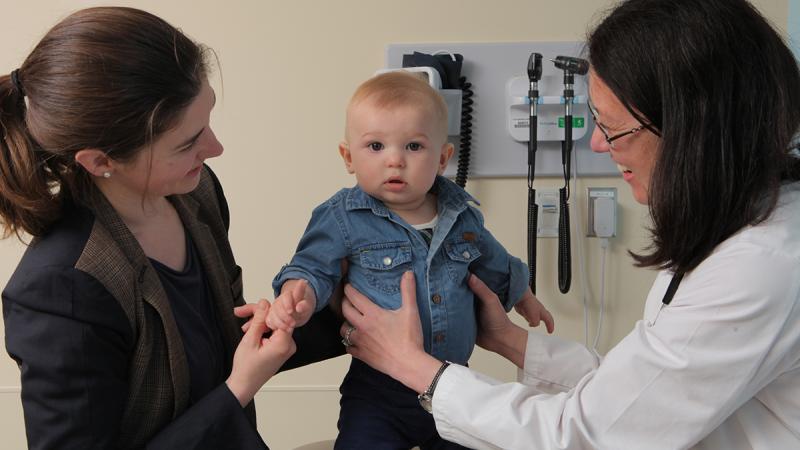 Overview
The mission of the Division of Clinical Genetics is to provide excellent, comprehensive care to families of children with known genetic or suspected genetic disorders. We provide care for newborns, children, adults, and pregnant women in the New York City metropolitan region and beyond. Our division offers cutting-edge clinical services and genetic testing to patients with complex and previously undiagnosed genetic disorders.
Our services include clinical evaluation and risk assessment, genetic counseling, and genetic testing for a variety of genetic conditions. We also provide ongoing care for patients with genetic conditions, coordinate multidisciplinary care, and help patients access resources related to their condition. When appropriate, we identify research studies for which patients may qualify to understand their condition better or provide additional therapeutic options. For patients planning their families, we provide reproductive options for having healthy children.
Clinical Services
Our team of highly specialized, well-regarded physicians, genetic counselors, and nurse practitioners provide clinical services to children and adults with complex disorders including autism, epilepsy, congenital heart disease, cardiac disease, cancer, neurofibromatosis, von Hippel Lindau, skeletal dysplasias, genetic eye diseases, hearing loss, intellectual disability, and a wide variety of rare genetic disorders.
The skilled physicians in our division provide comprehensive testing that may not be available or is difficult to access at other institutions. We frequently use whole exome sequencing (WES) or whole genome sequencing to facilitate diagnoses in complex cases in both outpatients and inpatients, and we offer a second-opinion service to reassess previously performed genomic tests to evaluate the raw data for undiagnosed disorders.

Division members participate in several multidisciplinary clinics where patients are cared for by a team of specialists.
The multidisciplinary Craniofacial Program includes geneticists and genetic counselors as well as plastic surgeons, maxillofacial surgeons, otolaryngologists, dentists, occupational therapists, and speech therapists.
Through the multispecialty Vascular Anomalies Program for infants and children with vascular diseases, we work closely with pediatric dermatologists, interventional radiologists, hematologists, and plastic surgeons.
We provide collaborative, specialized care through our centers of excellence for neurofibromatosis, von Hippel Lindau, and Marfan syndrome.
Our clinical geneticists collaborate with cardiologists to care for patients with pediatric cardiomyopathies, pulmonary hypertension, congenital heart disease, and other cardiac conditions.
We provide accurate cancer risk information and genetic counseling to individuals with a family or personal history of cancer through our Cancer Genetics Counseling Program.
Infants and children with rare and undiagnosed diseases receive comprehensive diagnostic services and support through our DISCOVER and TREATMENT programs (see below).
A subsection of our division is focused on genetic metabolic diseases, many of them detected through state-mandated newborn screening programs. These infants, children, and adults are cared for through our Inherited Metabolic Disease Program.
We provide genetic services to about 8,000 pediatric and adult patients and 1,500 prenatal patients each year. Members of our division also provide inpatient consultations for newborn infants, children, and adults, mainly through the neonatal intensive care unit (NICU) and pediatric intensive care unit (PICU).
Genetic evaluation and diagnosis are integral parts of the care we offer to patients born with congenital malformations, and neurologic and neuromuscular disorders. Early diagnosis provides the primary physician with information that can inform the patient's clinical management. We evaluate 800 to 1,000 pediatric inpatients each year, and can refer most patients in our care to other subspecialists within the institution if indicated, including pediatric neurologists, ophthalmologists, gastroenterologists, hematologists, and orthopedic surgeons.
The DISCOVER Program (Diagnosis Initiative: Seeking Care and Opportunities with Vision for Exploration and Research) is an integrated program for undiagnosed diseases at NewYork-Presbyterian/Morgan Stanley Children's Hospital. The DISCOVER team, led by Wendy Chung, MD, PhD, includes a clinical geneticist, genetic counselors, nurse practitioner, social worker, and a coordinator. This program integrates excellent clinical care and state-of-the-art research, with the aim of reaching accurate clinical and molecular diagnoses.
Through our recently launched TREATMENT program, also led by Dr. Chung, we are developing a range of treatments and supports for patients with rare genetic conditions. The resources available through the TREATMENT program will enable us to study the full range of rare diseases that we encounter and will establish Columbia University Medical Center as a destination for patients with rare genetic disorders. We encourage pharmaceutical companies, the NIH, private foundations, and other collaborators to come to us with opportunities for research studies and clinical trials of new treatments.
Research
The division collaborates in a number of ongoing and diverse precision medicine initiatives at Columbia University Irving Medical Center (CUIMC). Current initiatives include studies of epilepsy and neurological diseases, undiagnosed diseases, kidney and liver diseases, eye diseases, disorders related to maternal-fetal medicine, disorders related to anesthesiology and pain, and amyotrophic lateral sclerosis (ALS).
Division faculty member Wendy Chung, MD, PhD also has an extensive research portfolio in the Division of Molecular Genetics.
We work collaboratively with the Institute of Genomic Medicine (IGM), whose members use genome sequencing, disease biology, and electronic medical records to develop and advance patient-centered precision medicine at CUIMC. The Institute's objective is to target areas where genomic data will have important impact on therapeutic approaches in the treatment and management of human diseases. Members of our division provide clinical expertise in the selection and evaluation of appropriate patients for recruitment, assist in the interpretation of genomic data, and provide genetic counseling to families when a pathogenic mutation is identified in a proband.
Education
Fellowship Program
Our division is accredited by the ACMGE (Accrediting Council for Graduate Medical Education) to train physicians with a minimum of two years prior training in any ACGME-accredited residency program, and we accept one fellow each year for training. Our two-year program has maintained ACGME accreditation since it was established in 1999. The first 18 months are dedicated to clinical training; residents rotate through various program subsections including dysmorphology, biochemical genetics, cytogenetics, molecular genetics, and cancer genetics. Fellows dedicate the remaining six months to research. Training includes intensive didactic lectures taught by faculty in the division and guest faculty members from various departments at CUIMC. Fellows actively participate in weekly divisional conferences, where they present and discuss complex cases in their care.
CUIMC is a tertiary institution in the northern Manhattan neighborhood, Washington Heights. By training in an underserved area fellows are exposed to both common genetic conditions such as Down syndrome we well as highly complex rare conditions. At the end of their training, graduates from our program are capable of diagnosing and caring for patients with complex genetic problems and are eligible for certification in Clinical Genetics by the American Board of Medical Genetics and Genomics.
The contact person for the residency training is Alejandro Iglesias, MD, Program Director.
Student, Resident, and Fellow Rotations in Clinical Genetics
Education is a keystone in the mission of the division. We offer rotations to genetic counseling students, medical students (including international students), and pediatric residents. Trainees from other CUIMC departments including molecular genetics fellows from the Department of Pathology, maternal-fetal medicine fellows from Obstetrics and Gynecology, and occasionally a trainee from Internal Medicine, also rotate in our division. The duration of these rotations varies, though on average trainees spend two to four weeks with our group.