Child and Adolescent Health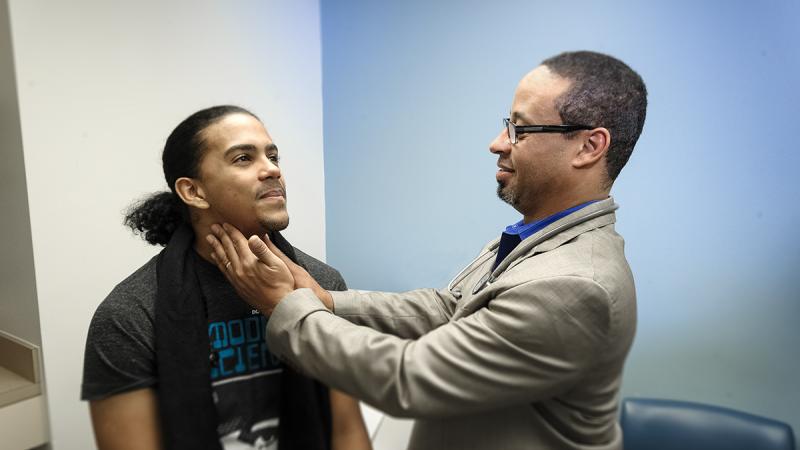 Overview
The Division of Child and Adolescent Health is dedicated to improving the health of children and adolescents in New York City and to defining model programs for the care of high-risk children everywhere. We provide comprehensive clinical services and community health programs in partnership with the Ambulatory Care Network (ACN) of NewYork-Presbyterian Hospital/Columbia University Irving Medical Center, as well as conduct research and develop innovative programs. Child and Adolescent Health (CAH) includes adolescent medicine, the child advocacy center, the complex care program, developmental behavioral pediatrics, general and community pediatrics, inpatient services, and a newborn clinic.
Clinical Services
Faculty in the Division of Child and Adolescent Health provide care in both outpatient and inpatient settings. Our division is responsible for the general inpatient service at NewYork-Presbyterian/Morgan Stanley Children's Hospital, as well as the well-baby nursery and the adolescent consult service. Faculty in the division provide outpatient, insurance-based, general pediatrics and adolescent medicine at the ColumbiaDoctors sites at West 86th Street and West 51st Street in New York City. In collaboration with NewYork-Presbyterian Hospital's Ambulatory Care Network (ACN), we also provide care through community-based clinics, school-based clinics, the newborn clinic, the child advocacy center, and the community pediatrics programs. And we provide developmental behavioral pediatrics services through the ACN and in the neonatology follow-up clinic.
Adolescent Medicine
Adolescent Medicine supports several clinical programs for adolescents and training opportunities for students, residents and fellows, as well as research initiatives focused on improving the health of adolescents and young adults everywhere. Clinical programs include an academic adolescent medicine primary care practice, a large school-based health center system, a practice specifically geared to young men's health, and an inpatient adolescent medicine consult service. We have a ColumbiaDoctors practice at West 51st, and we are also involved in capacity building in low- and middle-income countries.
Child Advocacy Center
The Child Advocacy Center provides care for children for whom there is a concern about maltreatment, and for their families. Specially trained faculty and staff evaluate and treat children who have experienced child abuse or neglect. Both inpatient and outpatient services are provided by a multidisciplinary team, in collaboration with law enforcement and governmental agencies as needed. We also provide services to the Manhattan Child Advocacy Center/Safe Horizons through a medical service agreement.
Community Pediatrics
Community Pediatrics aims to improve the health status of children and adolescents in the communities of northern Manhattan through partnerships between community and academic organizations, innovative pediatric training experiences, population health initiatives, and enhanced academic leadership. Community Pediatrics programs are geared toward reducing the prevalence of childhood obesity; improving health literacy; breaking the link between poverty and poor health; preparing middle- and high school students for careers in biomedical science and medicine; incorporating early literacy into pediatric primary care; addressing mental health issues during the elementary school years; and reducing childhood asthma.
Complex Care Program
The Complex Care Program was established in 2015 with the mission of facilitating better quality of care and better quality of life for children with medical complexity and their families. Faculty and staff members in the program help families develop and manage a comprehensive care plan for their children.
Developmental Behavioral Pediatrics
Our developmental behavioral pediatricians have special expertise in child development and behavior, and through the ACN clinical programs and the neonatal intensive care unit (NICU) follow-up clinic they identify potential issues and provide appropriate management strategies, resources, and referrals, as well as extensive parenting guidance to optimize a child's ability to thrive in their family, community, and environment. They also help train medical students and residents.
General Pediatrics
The ACN primary care practice is a fully integrated faculty and resident practice, staffed by more than 30 full-time faculty and 75 pediatric housestaff at four hospital-based clinical sites in the Washington Heights community. We provide primary care to approximately 22,000 children, generating more than 46,000 visits per year. We also have a ColumbiaDoctors practice at our West 51st and West 86th streets locations.
Inpatient Services
Inpatient Services includes the academic hospitalist program, which provides family-centered inpatient care to children with a range of diseases, from common, general pediatric illnesses to complex medical conditions with multi-organ system involvement. We also provide care through the well-baby nursery.
Newborn Clinic
Through the innovative newborn clinic operated by the ACN, physicians in the division see infants within the first days of life, providing a transition from the well-baby nursery to their primary care physician. We also provide lactation support.
Research
Faculty are actively involved in research either as principal investigators or as co-investigators. Research projects in the division focus on improving child and adolescent health through addressing vaccination and other preventive services, understanding the impact of poverty and adverse child experiences on health outcomes, improving the delivery of mental health and obesity prevention services, and the reproductive health needs of adolescents and young adults.
Education
Several division members have leadership roles within the medical school and many actively participate in medical student training. The division plays an active role in the leadership of the residency program, providing all of the training in general pediatrics and the community pediatrics track. We also provide the leadership for quality improvement training for the residency.
Our division offers two fellowships. The three-year Adolescent Medicine Fellowship is ACGME-accredited, with both a clinical and research focus. The Primary Care Research in Community Health Fellowship is a collaborative effort of the Division of Child and Adolescent Health, Division of General Medicine, and the Center for Family and Community Medicine. This fellowship provides a strong academic and clinical foundation for primary care physicians who will dedicate their careers to caring for poor minority children, adolescents, and adults, while also leading the campaign to reduce health disparities.