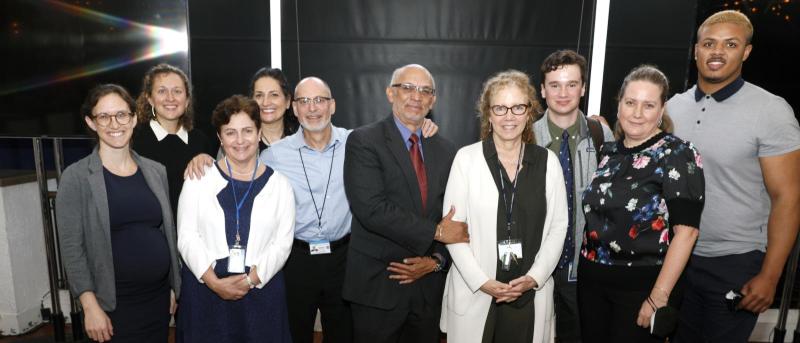 Steve Miller Day: An Annual Celebration of Humanism and Medicine
On Wednesday, October 26, 2022, faculty, staff, patients, and friends in the Department of Pediatrics gathered for the thirteenth annual Steve Miller Day, a celebration of humanism and medicine. Named for a beloved faculty member and educator, the day honors the legacy of Steven Miller, MD, and renews our institutional commitment to the values that were so central to Dr. Miller's work: medical care of the highest caliber delivered with empathy, compassion, and humanism.
Pediatrics Chair Jordan Orange, MD, PhD, welcomed attendees and noted the importance of the gathering: "Events like today's are vital to training the next generation of physicians and scientists dedicated to the care and treatment of children and adolescents," Dr. Orange observed. "These events allow our medical students, fellows, residents, and faculty to come together and learn from leaders in the field about new methods and innovations."
Especially moving were remarks from Nico Miller, the youngest son of Dodi Meyer, MD, a member of Columbia's Pediatrics faculty, and of the late Dr. Miller, who was Director of Pediatric Medical Education. Nico, who is currently a student at the Columbia School of Nursing, talked about the "bravery, empathy, and confidence" that were so central to the work of his father. "I try to honor him in every patient interaction. I think about how he would treat them, and work to truly understand where each patient is coming from, and how I can be a small part of bringing them back to wellness, while keeping their dignity intact."
The keynote speaker for the event, Dr. Daniela Lamas, spoke about the relationship between medicine, humanism, and technology, bringing together her unique experiences as a Columbia-trained physician, faculty member at the Harvard Medical School, critical care doctor at Brigham and Women's Hospital, journalist, whose work has been featured in the Miami Herald and the New York Times, and author of the essay collection, You Can Stop Humming Now.
The day continued with a dynamic and inspirational lunchtime presentation by Jeremiah Douchee, second-year student at VP&S, who discussed the inequities not only in carceral care but in the way medical education has approached this care. He proposed a curriculum that focuses on those impacted by carceral care (both those incarcerated and their families) rather than exploiting those within the system for the sake of learning. His points were further amplified by Dr. Al Cohall, faculty at both VP&S and the Mailman School of Public Health and the 2022-2023 Vanneck-Bailey Scholar, who talked about the impact of incarceration on the medical care provided to individuals in the carceral system and their communities.
The afternoon concluded with a presentation by the first Steve Miller Fellowship recipient, Dr. Katie Nash, now a pediatric hospitalist and health services researcher in the Department of Pediatrics. She discussed the project she undertook as the inaugural Miller Fellow, which has evolved into "Digame Bienvenidos," a program to introduce new VP&S and College of Dental Medicine students to Washington Heights, the neighborhood where they receive their medical education. Dr. Ana Esteban Gonzalez, faculty in Family and Community Medicine and director of Digame and Bienvenidos, talked about the expansion and impact of the program since its inception.
Learn more about Steve Miller Day here. To make a gift to the Steven Z. Miller Education Fund click here or contact Natalie Schweizer at ns3468@cumc.columbia.edu or 646-770-7763.