Virtual Pediatrics Elective for Underrepresented in Medicine (UIM) Students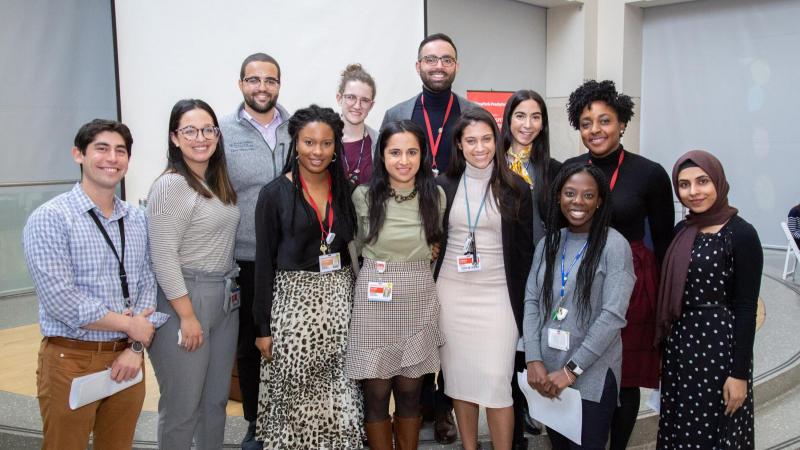 NewYork-Presbyterian Morgan Stanley Children's Hospital at Columbia University Irving Medical Center (CUIMC) is located in the heart of the Washington Heights neighborhood of New York City. We have a rich history of contributions to pediatrics predicated on serving the children of New York. We continue to pursue improvements in care through research advances and innovations in quality improvement, advocacy, and education. Our present 265,000-square-foot inpatient facility was completed in 2004, and is the largest and highest-rated children's facility in the tri-state area and ranks among the top in the nation, according to U.S. News & World Report.
We are fortunate to work in a culturally rich and diverse community in NYC. We take pride in serving our patients and families and are committed to providing the highest quality care to every person who walks through our doors. 
Our department is committed to diversity, equity, and inclusion in the care we deliver and in our training of future pediatricians. We foster a learning community in which residents are active participants in and drivers of the learning process, enabling our program to adapt and support the changing needs of our trainees, patients, and families. 
The virtual pediatrics elective for UIM students will introduce visiting students to the structure and culture of the NYP-Columbia Department of Pediatrics, teach students advanced concepts in pediatrics pertaining to clinical management, and promote team-building and self-reflection during this novel application cycle. The virtual rotation will expose students to the pediatric residency work and culture without the time, expense, or travel required for an in-person elective. 
Course Dates
September 5 – September 17, 2023
September 18 – October 1, 2023
October 16 – October 29, 2023
October 30 – November 12, 2023
Number of students in each session: 2
Learning Objectives
Develop effective communication skills and patient-centered interviewing techniques
Explain elements of the pediatric-specific interview and physical examination
Participate in and contribute to the learning environment of conferences and lectures
Develop clinical problem-solving skills relevant to pediatric cases by identifying clinical problems and thinking through differential diagnosis and management plans
Gain familiarity with pediatric subspecialty care and the management of complex conditions
Identify personal learning needs and areas for growth
Learning Opportunities
The student will:
be observed taking a focused history and given feedback on history taking skills
engage in telehealth visit appointments with faculty and/or residents
participate in resident-led conferences
participate in virtual clinical rounds with the inpatient pediatrics service
have exposure to a variety of virtual small group learning activities including case-based reviews and resident-run seminars
virtually participate in weekly resident and departmental conferences, intern conference, mock code
virtually observe and participate in pediatric subspecialty rounds
be assigned both a faculty and resident preceptor who will meet with the student weekly
Schedule
Week One
Time
Monday
Tuesday
Wednesday
Thursday
Friday
8 – 9AM

Intro to Clerkship

SAR Morning Report
Chief of Service
Board Review
Grand Rounds
9:15-10
Virtual General Wards Rounds
Break
Break
 
 
10-11
Break
Virtual Liver Team Rounds
Virtual GI Team Rounds 
 
 
11-12pm
Break
Virtual Hematology Team Rounds

Virtual Nephrology Team

Rounds 
 
 
Week Two
| | | | | | |
| --- | --- | --- | --- | --- | --- |
| Time | Monday | Tuesday | Wednesday | Thursday | Friday |
| 12-1pm | Meet with residency Pediatric Diversity and Inclusion Council leadership | Noon Conference | Noon Conference | Mock Code/Noon Conference |   |
| 1:15-2 | Clinic talk |   |   | Telehealth Session | Visiting student presentation |
| 2:15-3 | Observe Continuity Clinic (virtual or telehealth) | TEACH Senior lecture | Q&A with admitting intern | Meet with leadership in Undergraduate or Graduate Medical Education | Meet with Department Leadership |
Eligibility requirements:
Good standing in medical school
Final year of medical school at an LCME-accredited medical school
Completion of core clerkship in pediatrics
Applying for residency position in pediatrics
Applicants must visit the Visiting Student Program page on the Vagelos College of Physicians and Surgeons site, and follow the instructions within the application portal here.
How to Apply
Apply for the virtual pediatrics elective for UIM students here on our Visiting Student page.
Questions?
Please contact Ms. Jakki Outlaw, MS
jo9@cumc.columbia.edu
212-305-8504
Thank you for your interest in our program!