Nephrology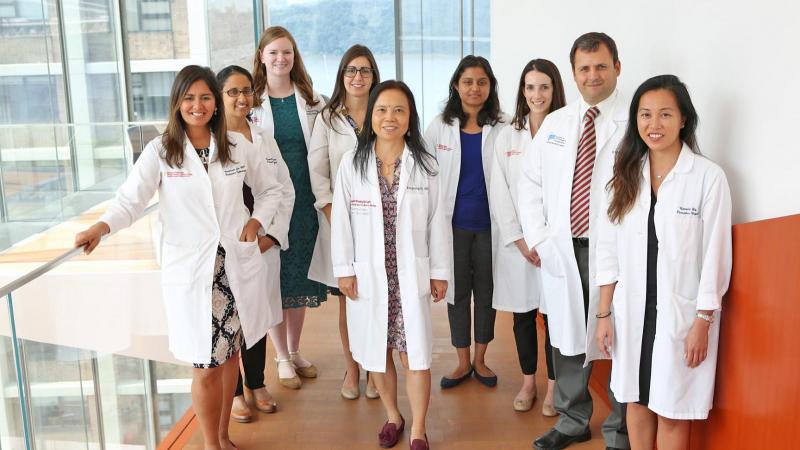 Overview
The mission of the Division of Pediatric Nephrology is three-fold: to provide compassionate, state-of-the-art care for patients with acute and chronic kidney disease; to be at the forefront of research and discoveries that advance our understanding of kidney disease and its prevention, diagnosis, and treatment; and to train physicians in the best practices in pediatric nephrology.
Clinical Services
The Division has four full-time faculty members and provides comprehensive care for a wide range of conditions that affect newborns, infants, children, adolescents, and young adults. We have designated medical directors for our dialysis program and kidney transplantation program, and our four services include:
Inpatient service and consultations for hospitalized children with any kidney conditions, including critically ill patients who need renal replacement therapy with peritoneal dialysis (PD), hemodialysis (HD), continuous veno-venous hemofiltration (CVVH), and CVVH in conjunction with extracorporeal membrane oxygenation (ECMO).
Chronic dialysis program with PD and HD for end-stage renal disease. We have recently expanded our pediatric HD unit and now have eight beds.
Kidney transplantation program for living and diseased donor transplants. We have also successfully performed combined kidney-liver and kidney-heart transplants.
Outpatient service for long-term follow up of rare and common kidney conditions, including consultations for families who receive a prenatal diagnosis. We have close collaborations with pediatric urology, maternal fetal medicine, precision medicine, and adult nephrology services for family-centered and transitional care.
The Division of Pediatric Nephrology is comprised of a dedicated, interdisciplinary team that includes physicians, nurses, nurse practitioner, medical assistant, dietitian, and social worker who are all fully committed to caring for children with kidney disease and supporting their families through education and other resources.
Research
The division currently receives National Institutes of Health (NIH) and other research support for basic science, clinical, and translational research. Our broad research areas encompass cell biology of kidney tubular response to ischemia and hypoxia injury or urinary tract obstruction, pathogenesis of acute kidney injury and chronic kidney disease, observation studies in glomerular disease, gene discoveries for congenital anomalies of the kidney and urology tract, and genetic studies for chronic kidney disease. We have ongoing and fruitful collaborations with precision medicine, adult nephrology, pathology, and neonatal intensive care that are providing knowledge that will serve as the basis of future therapies for kidney disease.
Education
The division is heavily invested in educating future generations of pediatric nephrologists. Since 2012 we have been one of the most popular subspecialties for medical student and resident rotations. Over the past five years two of our fellows were named Fellow of the Year and one faculty member was voted Attending of the Year by pediatric residents at Columbia University Irving Medical Center. Through the Nephrology Fellowship, we train pediatric nephrologists to achieve high competence in patient care, renal research, and education. The program emphasizes hands-on learning and didactic teaching, and through a rigorous curriculum fellows learn to diagnose and to treat children with a wide spectrum of acute and chronic kidney diseases.
History
The Division of Pediatric Nephrology at NewYork-Presbyterian Morgan Stanley Children's Hospital/Columbia University Irving Medical Center was established in the 1970s. In 2011 the hospital and medical school jointly recruited a new division chief, doubled the number of faculty members from two to four, and established a pediatric nephrology fellowship program accredited by the Accreditation Council for Graduate Medical Education. These changes positioned the division to meet our patient-care, education, and research missions.