Nutrition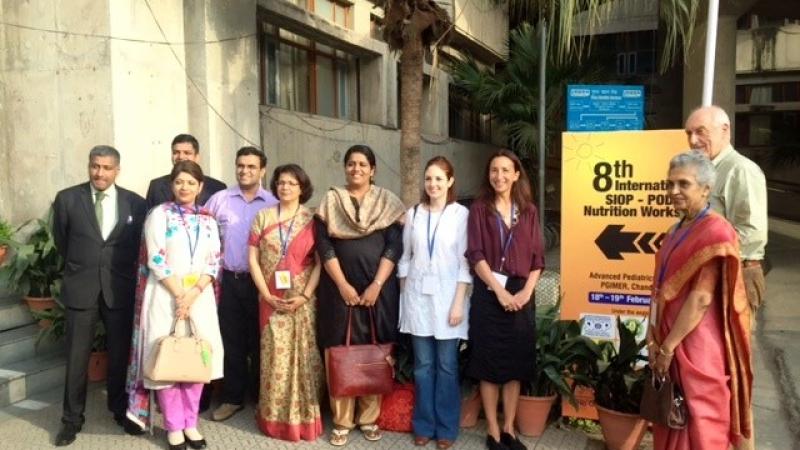 Transforming Pediatric Cancer Care Through Nutrition
The incidence of cancer is on the rise around the globe, the World Health Organization (WHO) reports that a third of cancer deaths are attributable to behavioral and dietary risks including high body mass index, low fruit and vegetable intake, and lack of physical activity. Among children with cancer, 30 to 85 percent are malnourished at the time of diagnosis, and in Africa and India a third of children with cancer also have severe acute malnutrition. Poor nutrition increases treatment-related toxicities, and decreases survival while increasing the rate of abandonment of therapy.
Elena J. Ladas, PhD, RD is working with a global coalition of pediatric hospitals, scientists, clinicians, and clinical investigators to revolutionize the role of nutritional care in cancer therapy. Through the formation of The International Initiative for Pediatrics and Nutrition (IIPAN), coalition members aim to substantially increase the global success rate of pediatric cancer treatment by improving the education and delivery of clinical nutritional care to children with cancer. IIPAN has trained more than 3,000 clinicians in nutritional assessment and intervention and is actively involved in building nutrition support and resources around the world. IIPAN is active in Brazil, Cameroon, Guatemala, Honduras, India, Nicaragua, and South Africa. Among Dr. Ladas's ongoing projects are studies to establish clinical guidelines, document the prevalence of malnutrition in pediatric cancer, and evaluate the role of the microbiome. 
Contact
Elena Ladas, PhD, RD
ejd14@cumc.columbia.edu
Applying Basic Science Findings to Real-World Problems
Infectious diseases like tuberculosis, malaria, cholera, and dysentery are no longer the major scourges of the developing world. These maladies and diseases have been replaced by an explosion of western health problems such as type 2 diabetes and cardiovascular disease, stemming from the obesity epidemic, which has roots in an increase in the global food supply and modernization of people's lifestyles around the world. Richard Deckelbaum, MD is providing doctors with new tools to address these evolving challenges, from an understanding of agriculture to epidemiology to health economics to disaster relief. In addition to his ongoing basic research in cell biology of lipids, cardiovascular diseases, and issues of human nutrition, Dr. Deckelbaum has been active in translating basic science findings to practical application in different populations. His recent work includes studies of omega-3 glycerides and the "protection" they provide after acute injury in different organs, and varying nutrient intakes on expression of cardiovascular risk factors.
Promoting Breastfeeding in Armenia
Kim Hekimian, PhD is researching infant feeding practices, breastfeeding promotion, and nutrition during pregnancy and lactation. Currently, she is working on nutrition initiatives with a focus on the causes of stunting in children under five in Armenia, and dietary approaches to meet the RDA for women of reproductive age. She conducted the first national survey of infant nutrition practices in the newly independent nation of Armenia. The findings from this study led to a four-year nationwide breastfeeding promotion program, and she was involved in the design and evaluation of the program, which was funded by USAID, UNICEF, and the Ministry of Health of Armenia. At the end of the promotion program, breastfeeding rates tripled and post-neonatal mortality declined. Her data collection instrument continues to be used for breastfeeding research in Armenia.
Contact
Kim Hekimian
kh2551@cumc.columbia.edu