82 Postdoctoral Trainees in 16 Subspecialty Training Programs

Fellowship

The Department of Pediatrics and NewYork-Presbyterian Morgan Stanley Children's Hospital have more than 80 postdoctoral trainees in 16 subspecialty training programs, with multiple NIH T32 grants. Fellows have extensive clinical responsibilities and are encouraged to participate in local and national activities including conferences, journal clubs, and seminars to complement the activities of their specific programs.
The focus of all programs is clinical, translational, and basic investigative endeavors, and we ensure that mentorship and scholarly oversight of fellows is a high priority. The subspecialty training programs in endocrinology, gastroenterology, and infectious disease are supported by Institutional National Service Awards (NIH T32), and some fellows have pursued research training in anesthesiology, bioinformatics, genetics, and patient safety through additional T32 training grants.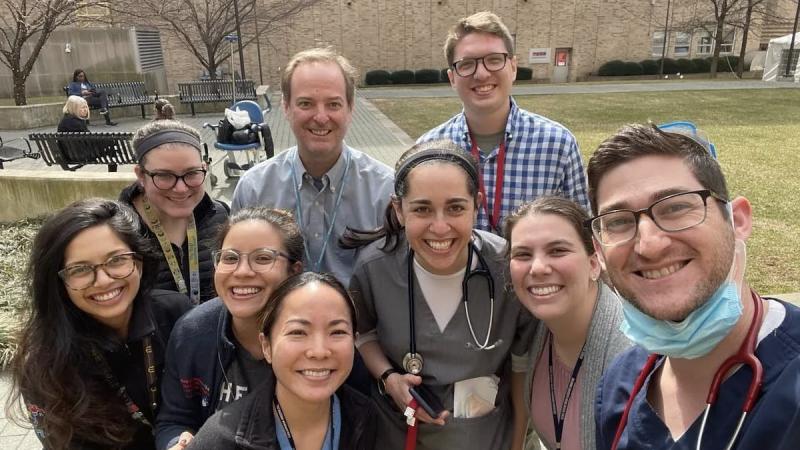 ---
Fellows Academy
Through the Fellows Academy, fellows attend monthly hybrid professional development workshops. Discussions cover a variety of topics in career planning including negotiation, writing a CV and cover letter, building a career and finding your first job, and networking, as well as clinical topics such as implicit bias and health care finances. 
---
Fellows Research Symposium and Oberfield Prizes
In the spring of 2022 the department held its 24th annual Pediatric Fellows Research Symposium. This year's event, held in person for the first time since 2019, was expanded to include postdoctoral fellows in basic science and graduate students within Pediatrics. Thirty posters were on display and each of the five prizewinners, below, gave research talks.  
Basic and Translational Science
Nicole Stanford, MD (Cardiology), "Incorporation of Three Dimensional Printed Cardiac Models in Fetal Counseling for Congenital Heart Disease." Mentor: Kanwal Farooqi, MD
Clinical Science
Patrice Pryce, MD (Critical Care Medicine), "Parental Adverse Childhood Experiences (ACEs) and Post-PICU Stress in Parents and Children." Mentor: Jeffrey Edwards, MD
Health Services Science
Francesca Kingery, MD (Hospital Medicine), "Implementing Social Determinants of Health Screening in the Inpatient Setting." Mentor: Dodi Meyer, MD
Pre-Doctoral Science
Daniela Iezza, MS (Critical Care Medicine), "Engraftment of Alveolar Epithelial Type II Cells in a Lung Disease Model." Mentor: N. Valerio Dorrello, MD, PhD
Post-Doctoral Science
Tania Wong, MD (Infectious Disease), "K. pneumoniae Induced Host Metabolic Stress Promotes Tolerance to Pulmonary Infection." Mentor: Alice Prince, MD
---
Selected Honors and Awards
Received the Rustin McIntosh Fellow Award, which honors a pediatric postgraduate fellow who best exemplifies the attributes of Dr. Rustin McIntosh, Chair of the Department of Pediatrics and Director of the Pediatric Service from 1933-1960
Helen Hu, MD
Received the Milton Singer Memorial Fellowship, awarded to a talented graduating pediatric fellow planning a career in research in the children's conditions that held a special interest for Dr. Singer, particularly cerebral palsy and prematurity.
Andrea Webster Carrion, MD
Received the Metropolitan Fellowship, awarded annually to a fellow demonstrating excellence in the field of hematology, oncology, and stem cell transplantation.
Chantal Angueyra Aristizabal, MD
Received the Jen Tien Wung, MD, Award for Clinical Excellence. Established in 2020 in the Division of Neonatology in honor of Dr. Jen Tien Wung, this award is presented to a graduating neonatology fellow who has demonstrated the kind of excellence in the clinical care of neonates that Dr. Wung so manifestly displayed during his long and distinguished career.
---
Lawrence R. Stanberry Fellowship Research Grants 
In 2022 the department launched The Lawrence R. Stanberry Fellowship Research Grants Program, which honors Dr. Lawrence Stanberry, who was chair of the Department of Pediatrics from 2008-2018. These grants are intended to support research projects that are not otherwise funded in the areas of clinical research, basic science, medical education, quality improvement, health services research, or translational research. Projects that are funded are expected to be completed under the supervision of a faculty research mentor.
The first Lawrence R. Stanberry Fellows Research Grants were awarded to:
Dr. Sinead Brady (Neonatal/Perinatal Medicine), "Using Objective Measures to Improve the Assessment of the Patent Ductus Arteriosus." Mentor: Dr. Tina Leone
Dr. Virginia Byron (Adolescent Medicine), "Exploring barriers and opportunities for preventive health services for young adults." Mentor: Dr. Melanie Gold
Dr. Presley Nichols (Endocrinology), "Effect of Puberty Blockers on Cognition and Psychosocial Functioning in Transgender and Gender Non-Conforming Adolescents." Mentor: Dr. Ilene Fennoy
Dr. Anshu Paul (Neonatal / Perinatal Medicine), "MAP Staph Study." Mentors: Dr. Lisa Saiman and Dr. Anne-Catrin Uhlemann
---
Selected Publications
Grauer A, Rosen A, Applebaum JR, Carter D, Reddy P, Dal Col A, Kumaraiah D, Barchi DJ, Classen DC, Adelman JS. Examining medication ordering errors using AHRQ network of patient safety databases. J Am Med Inform Assoc. 2023 Jan 30:ocad007. doi: 10.1093/jamia/ocad007. Epub ahead of print. PMID: 36718575.
Cheung D, Katz DT, Webster-Carrion A, Saad AG, Fifi A, Llanos-Chea A, Pillai AB. Eosinophilic Esophagitis After Pediatric Hematopoietic Stem Cell Transplantation. J Pediatr Gastroenterol Nutr. 2022 Dec 1;75(6):e117-e118. doi: 10.1097/MPG.0000000000003486. Epub 2022 Jun 1. PMID: 35653423.
Yang KC, Hu HH, Ades AM. The Hidden Impact of Neonatology Boot Camp: A Qualitative Study. Simul Healthc. 2022 Aug 1;17(4):256-263. doi: 10.1097/SIH.0000000000000639. Epub 2022 Mar 1. PMID: 35220389.
Harris JN, Mauro C, Andresen JA, Zimet GD, Rosenthal SL. COVID-19 vaccine uptake and attitudes towards mandates in a nationally representative U.S. sample. J Behav Med. 2022 Apr 29:1–15. doi: 10.1007/s10865-022-00317-2. Epub ahead of print. PMID: 35486335; PMCID: PMC9051757.
Andresen JA, Harris JN, Mauro C, Zimet GD, Rosenthal SL. The impact of financial incentives on COVID-19 vaccination intention among a sample of U.S. adults. Prev Med Rep. 2022 Oct;29:101962. doi: 10.1016/j.pmedr.2022.101962. Epub 2022 Sep 1. PMID: 36065257; PMCID: PMC9434908.