Moscona Lab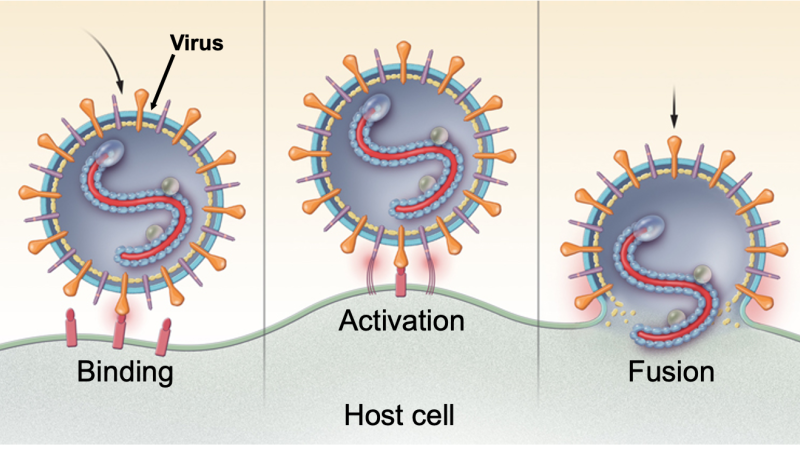 Location and Contact Information
701 West 168th Street
Hammer Health Sciences Building, HHSC13-02
United States
Open location in Google Maps
Center for Host-Pathogen Interaction
The Moscona Lab is focused on understanding how enveloped viruses enter cells, and on using this understanding to prevent viral infection. The lab is organized around the interdisciplinary theme of virus-host interactions.
Dr. Moscona co-directs the Center for Host-Pathogen Interaction with Dr. Matteo Porotto, with the aim of fostering interdisciplinary research at the human-pathogen interface and stimulating interactions among various departments and disciplines. Projects draw from strategies and methods of molecular biology, cell biology, biophysics, computational biology, structural biology, and virology, and may use human tissue models or animal models of human disease to answer questions about viral infection. The lab conducts basic research on paramyxoviruses that cause serious and prevalent childhood diseases, and on newly emerging paramyxoviruses that affect humans. The focus is on the mechanisms of viral entry into host cells, in the intial stages of infection.
As a basic scientist and a pediatrician, Dr. Moscona focuses on ways to bring fundamental research findings to bear on health problems in children. She is dedicated to nurturing scientists and physicians at every level who share this goal. The laboratory is best known for identifying critical roles of the viral receptor binding protein in activating the viral fusion process during infection. Identifying the mechanism of fusion activation has led to promising targets for interfering with the viral entry process.
Lab Members
Center for Host-Pathogen Interaction
Gillian Zipursky

Post-baccalaureate Research Assistant

Francesca Bovier, PhD

Postdoctoral fellow
 (trainee of Matteo Porotto, PhD)

Marika Scafuro, PhD

Postdoctoral fellow (trainee of Matteo Porotto, PhD)

Anirban Das, PhD

Postdoctoral fellow, located in laboratory of Collaborator Chris Alabi, Cornell University, Ithaca (trainee of Matteo Porotto, PhD)

Ariel Kuhn, PhD

Postdoctoral fellow, located in laboratory of collaborator Samuel Gellman, University of Wisconsin, Madison

Shari Stenglein

Post-baccalaureate Research Assistant
Select Publications
*Marcink TC, Kicmal, T, Armbruster, E, Zhang, Z, Zipursky, G, Golub, KL, Idris, M, Khao, J, Drew-Bear, J, McGill, G, Gallagher, T, Porotto, M, des Georges, A, Moscona, A. Intermediates in SARS-CoV-2 spike-mediated cell entry. Science Advances, in press, July 2022

*Schmitz KS, Geers D, de Vries RD, Bovier TF, Mykytyn AZ, Geurts van Kessel CH, Haagmans BL, Porotto M, de Swart RL, Moscona A. Potency of Fusion-Inhibitory Lipopeptides against SARS-CoV-2 Variants of Concern. mBio 2022 Jun 28;13(3):e0124922. doi: 10.1128/mbio.01249-22. Epub 2022 Jun 13

Rijsbergen LC, Schmitz KS, Begeman L, Drew-Bear J, Gommers L, Lamers MM, Greninger AL, Haagmans BL, Porotto M, de Swart RL, Moscona A, de Vries RD. Modeling Infection and Tropism of Human Parainfluenza Virus Type 3 in Ferrets.mBio. 2022 Feb 15;13(1):e0383121. doi: 10.1128/mbio.03831-21. Online ahead of print. PMID: 35164568

Marcink TC, Porotto M, Moscona A. Parainfluenza virus entry at the onset of infection. Adv Virus Res. 2021;111:1-29. doi: 10.1016/bs.aivir.2021.07.001. Epub 2021 Aug 23. PMID: 34663496.

Greninger AL, Rybkina D, Lin MJ, Marcink TC, Shean RC, Drew-Bear J, Makhsous N, Harder O, Bovier F, Burstein S, Niewiesk S, Rima BK, Porotto M, Moscona A. Respiratory virus persistence and human parainfluenza virus evolution during lung infection of immune compromised humans, . J Clin Invest. 2021. https://doi.org/10.1172/JCI150506.

Outlaw VK, Cheloha RW, Jurgens EM, Bovier FT, Zhu Y, Kreitler DF, Harder O, Niewiesk S, Porotto M, Gellman SH, Moscona A. Engineering Protease-Resistant Peptides to Inhibit Human Parainfluenza Viral Respiratory Infection. J Am Chem Soc. 2021 Apr 21;143(15):5958-5966. doi: 10.1021/jacs.1c01565. Epub 2021 Apr 7. PMID: 33825470

Rodrigues Toste de Carvalho AL, Liu HY, Chen YW, Porotto M, Moscona A, Snoeck HW. The in vitro multilineage differentiation and maturation of lung and airway cells from human pluripotent stem cell-derived lung progenitors in 3D. Nat Protoc. 2021 Mar 1. doi: 10.1038/s41596-020-00476-z. Epub ahead of print. PMID: 33649566.

de Vries RD, Schmitz KS, Bovier FT, Predella C, Khao J, Noack D, Haagmans BL, Herfst S, Stearns KN, Drew-Bear J, Biswas S, Rockx B, McGill G, Dorrello NV, Gellman SH, Alabi CA*, de Swart RL*, Moscona A*, Porotto M*. Intranasal fusion inhibitory lipopeptide prevents direct-contact SARS-CoV-2 transmission in ferrets. Science. 2021 Feb 17:eabf4896. doi: 10.1126/science.abf4896. Epub ahead of print. PMID: 33597220. (*co-corresponding/senior)

Weisberg SP, Connors TJ, Zhu Y, Baldwin MR, Lin WH, Wontakal S, Szabo PA, Wells SB, Dogra P, Gray J, Idzikowski E, Stelitano D, Bovier FT, Davis-Porada J, Matsumoto R, Poon MML, Chait M, Mathieu C, Horvat B, Decimo D, Hudson KE, Zotti FD, Bitan ZC, La Carpia F, Ferrara SA, Mace E, Milner J, Moscona A, Hod E, Porotto M, Farber DL. Distinct antibody responses to SARS-CoV-2 in children and adults across the COVID-19 clinical spectrum. Nat Immunol. 2020 Nov 5. doi: 10.1038/s41590-020-00826-9. Online ahead of print.PMID: 33154590

Outlaw VK, Bovier FT, Mears MC, Cajimat MN, Zhu Y, Lin MJ, Addetia A, Lieberman NAP, Peddu V, Xie X, Shi PY, Greninger AL, Gellman SH, Bente DA, Moscona A*, Porotto M*. Inhibition of Coronavirus Entry In Vitro and Ex Vivo by a Lipid-Conjugated Peptide Derived from the SARS-CoV-2 Spike Glycoprotein HRC Domain. mBio. 2020 Oct 20;11(5):e01935-20. doi: 10.1128/mBio.01935-20.PMID: 33082259

Marcink TC, Wang T, des Georges A, Porotto M, Moscona A. Human parainfluenza virus fusion complex glycoproteins imaged in action on authentic viral surfaces. PLoS Pathog. 2020 Sep 21;16(9):e1008883. doi: 10.1371/journal.ppat.1008883. Epub ahead of print. PMID: 32956394.

Outlaw VK, Kreitler DF, Stelitano D, Porotto M, Moscona A* Gellman SH*. Effects of single α-to-β residue replacements on recognition of an extended segment in a viral fusion protein. ACS Infect Dis. 2020 Jul 21. doi: 10.1021/acsinfecdis.0c00385. PMID: 32692914 (*co-corresponding)

Marcink TC, Yariv E, Rybkina K, Más V, Bovier FT, des Georges A, Greninger AL, Alabi CA, Porotto M, Ben-Tal N, Moscona A. 2020. Hijacking the fusion complex of human parainfluenza virus as an antiviral strategy. mBio 11:e03203-19. https://doi.org/10.1128/mBio.03203-19.

Moscona A. 2020. Chikungunya infection: de-linking replication from symptomatology reveals the central role of muscle. J Clin Invest. https://doi.org/10.1172/JCI134746.

Outlaw VK, Lemke JT, Zhu Y, Gellman SH, Porotto M, Moscona A. Structure-Guided Improvement of a Dual HPIV3/RSV Fusion Inhibitor. J Am Chem Soc. 2020 Jan 23. doi: 10.1021/jacs.9b11548. PMID: 31951396

Outlaw VK, Bottom-Tanzer S, Kreitler DF, Gellman SH, Porotto M, Moscona A. Dual Inhibition of Human Parainfluenza Type 3 and Respiratory Syncytial Virus Infectivity with a Single Agent. J Am Chem Soc. 2019 Aug 14;141(32):12648-12656. doi: 10.1021/jacs.9b04615. Epub 2019 Aug 5. PMID: 31268705

Porotto, M, Ferren, M, Chen, Y-W, Siu, Y, Makhsous, N, Rima, B, Briese, T, Greninger, AL, Snoeck, H-W, Moscona, A. Authentic modeling of human respiratory virus infection in human pluripotent stem cell-derived lung organoids. MBio. 2019 May 7;10(3). pii: e00723-19. doi: 10.1128/mBio.00723-19. PMID: 31064833

Bottom-Tanzer SF, Rybkina K, Bell JN, Alabi CA, Mathieu C, Lu M, Biswas S, Vasquez M, Porotto M, Melero JA, Más V, Moscona A. Inhibiting Human Parainfluenza Virus Infection by Preactivating the Cell Entry Mechanism. MBio. 2019 Feb 19;10(1). pii: e02900-18. doi: 10.1128/mBio.02900-18. PMID: 30782664

Figueira TN, Mendonça DA, Gaspar D, Melo MN, Moscona A, Porotto M, Castanho MARB, Veiga AS. Structure-Stability-Function Mechanistic Links in the Anti-Measles Virus Action of Tocopherol-Derivatized Peptide Nanoparticles. ACS Nano. 2018 Oct 23;12(10):9855-9865. doi: 10.1021/acsnano.8b01422. Epub 2018 Sep 24. PMID: 30230818

Figueira TN, Augusto MT, Rybkina K, Stelitano D, Noval MG, Harder OE, Veiga AS, Huey D, Alabi CA, Biswas S, Niewiesk S, Moscona A, Santos NC, Castanho MARB, Porotto M. Effective in Vivo Targeting of Influenza Virus through a Cell-Penetrating/Fusion Inhibitor Tandem Peptide Anchored to the Plasma Membrane. Bioconjug Chem. 2018 Oct 17;29(10):3362-3376. doi: 10.1021/acs.bioconjchem.8b00527. Epub 2018 Sep 14. PMID: 30169965

ketani S, Shean RC, Ferren M, Makhsous N, Aquino DB, des Georges A, Rima B, Mathieu C, Porotto M, Moscona A*, Greninger AL*. Viral Entry Properties Required for Fitness in Humans Are Lost through Rapid Genomic Change during Viral Isolation. MBio. 2018 Jul 3;9(4). pii: e00898-18. doi: 10.1128/mBio.00898-18. PMID: 29970463 (*co-corresponding, senior)

Mathieu C, Porotto M, Figueira T, Horvat B, Moscona A. Fusion Inhibitory Lipopeptides Engineered for Prophylaxis of Nipah Virus in Primates. J Infect Dis. 2018 Mar 16. doi: 10.1093/infdis/jiy152

Chen YW, Huang SX, de Carvalho ALRT, Ho SH, Islam MN, Volpi S, Notarangelo LD, Ciancanelli M, Casanova JL, Bhattacharya J, Liang AF, Palermo LM, Porotto M, Moscona A*, Snoeck HW*. A three-dimensional model of human lung development and disease from pluripotent stem cells. Nat Cell Biol. 2017 May;19(5):542-549. doi: 10.1038/ncb3510. Epub 2017 Apr 24. PMID: 28436965

Mathieu C, Augusto MT, Niewiesk S, Horvat B, Palermo LM, Sanna G, Madeddu S, Huey D, Castanho MA, Porotto M, Santos NC, Moscona A. Broad spectrum antiviral activity for paramyxoviruses is modulated by biophysical properties of fusion inhibitory peptides. Sci Rep. 2017 Mar 8;7:43610. doi: 10.1038/srep43610. PMID: 28344321