Lovinsky-Desir Team
Location and Contact Information
Division of Pediatric Pulmonology
United States
Open location in Google Maps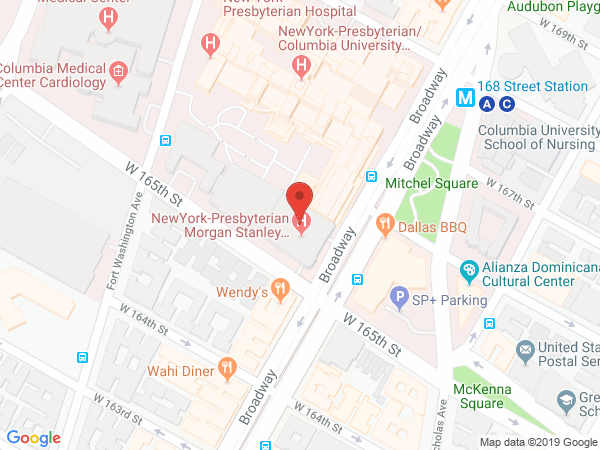 The Lovinsky-Desir Research team is focused on understanding and addressing factors in the urban environment that contribute to pediatric asthma. The current research emphasis is on understanding how to keep urban children physically active while avoiding potentially harmful pollutant exposures. To that end we are studying physical activity patterns in urban children, locations of physical activity throughout the urban landscape, inhaled doses of pollution during physical activity, and physical activity and pollution in New York City schools. The research efforts have been in collaboration with the Inner City Asthma Consortium and the Columbia Center for Children's Environmental Health.
Mentors and Advisors
Meyer Kattan, MD – Chief, Pediatric Pulmonology
Rachel Miller, MD – Chief, Pediatric Allergy, Immunology, and Rheumatology
William Busse, MD – Professor of Medicine and PI, Inner City Asthma Consortium
Steven Chillrud, PhD – Senior Doherty Research Scientist
Jeff Goldsmith, PhD – Assistant Professor, Biostatistics
Robert Garofano, PhD – Director, Pediatric Cardiopulmonary Exercise Laboratory
Aimee Layton, PhD – Director, Adult Cardiopulmonary Exercise Laboratory
Matthew Perzanowski, PhD – Associate Professor, Environmental Health Sciences
Andrew Rundle, DrPH – Associate Professor, Epidemiology
Lab Members
Perri Yaniv

Perri Yaniv has been a part of the Pediatric Pulmonary division's research team for 11 years, having worked under the Inner City Asthma Consortium as a research assistant and pulmonary technician for 8 ICAC studies, and is now the study coordinator for the Urban Environment and Childhood Asthma observational birth cohort, which is in its 14th year of observation. He has also functioned as an IRB liaison for the department, helping with the review board process with a variety of research studies involving Cystic Fibrosis and early onset of asthma. Currently he is working with Dr. Lovinsky-Desir's research team on the PLAY2 study to understand how exercise in polluted environments impacts childhood asthma. He has also acted professionally in a variety of independent theater and film projects in the New York City area since 2002; www.perribazyaniv.com is his official website. He is incredibly grateful to everyone at the Pediatric Pulmonary Department and is constantly thanking his study participants for all their wonderful input.

Kimberly Sanchez

Kimberly Sanchez is originally from Newark, New Jersey, but grew up in Biloxi, Mississippi where she graduated as the valedictorian of Biloxi High School. Her family is from Ecuador, and she speaks Spanish and Portuguese. She is a rising senior at Columbia University majoring in Psychology and on the pre-medical track. She is interested in pursuing an MD/MPH dual-degree. Kimberly's previous experiences include conducting research about HIV/AIDS in Santo Domingo, Dominican Republic and working as a research assistant at the Shohamy Lab at the Zuckerman Institute. Currently, Kimberly is a research coordinator for Dr. Lovinsky-Desir's PLAY 2 study. In her free time, she enjoys traveling and volunteering as a medical interpreter!

Michael Montilla

Michael Montilla joined Dr. Lovinsky-Desir's research team this summer as a research assistant performing spatial analysis for a study to understand where children in New York City are physically active. He is currently studying for a Master of Science in Urban Planning degree at Columbia's Graduate School of Architecture, Planning and Preservation (GSAPP), and he holds an undergraduate degree from Harvard University. One of his interests lies at the intersection of planning and health, and he is excited to be involved in the team's ongoing research.

James Quinn

Geographer and Senior Analyst

James Quinn is a Geographer and Senior GIS Analyst with the Built Environment and Health (BEH) research group (www.beh.columbia.edu) in the Mailman School of Public Health, Department of Epidemiology, at Columbia University. At BEH, James conducts medical geography research using spatial modeling techniques. His position requires the ability to make connections between the changes in the physical, economic, and social environments, and evaluate their effect on the development of changes in physical activity, patterns of obesity, and health risk. James works on numerous grant-funded research projects simultaneously where he is responsible for the acquisition, management, development, and linkage of retrospective and modern spatial databases measuring neighborhood characteristics with individual-level data. His duties require non-routine analysis, research and follow-through, and writing and synthesis in a multidisciplinary team setting. In addition, James supports other researchers with health-related projects involving a spatial perspective, and collaborates with other colleagues to enhance and promote the use of spatial analysis in teaching and research at Columbia. Currently he is working with Dr. Lovinsky-Desir on several projects to understand neighborhood environmental exposures, especially traffic pollution sources, and the impact on pediatric asthma.
Select Publications
Lovinsky-Desir S, Lawrence J, Jung KH, Rundle AG, Hoepner LA, Yan B, Perera F, Perzanowski MS, Miller RL, Chillrud SN. Air Pollution, Assessment of exposure to air pollution in children: Determining whether wearing a personal monitor affects physical activity. Environmental Research. 2018, 166:340-3.

Lovinsky-Desir S, Jung KH, Jezioro, JR, Torrone DZ, dePlanell-Saguer M, Yan B, Perera FP, Rundle AG, Perzanowski MS, Chillrud SN, Miller RL. Physical Activity, Black Carbon Exposure and DNA Methylation in the FOXP3 Promoter. Clinical Epigenetics. 2017, 9: 65.

Lovinsky-Desir S, Jung KH, Rundle AG, Hoepner L, Bautista J, Perera FP, Chillrud SN, Perzanowski MS, Miller RL. Physical Activity is Associated with Greater Black Carbon/Soot Exposure and Lower Fractional Exhaled Nitric Oxide in a Cohort of Adolescents Living in New York City. Environmental Research.2016, 151: 756-62.

Lovinsky-Desir S, Miller RL, Bautista J, Gil EN, Chillrud SH, Yan B, Perera FP, Jung KH. Differences in ambient polycyclic aromatic hydrocarbon concentrations between streets and alleys in New York City: Open space vs semi-closed space. Int. J. Environ. Res. Public Health. 2016, 13: 127.

Lovinsky-Desir S, Ridder R, Torrone D, Maher C, Narula S, Scheuerman M, Kattan M, DiMango E, Miller RL. DNA methylation of the allergy regulatory gene, interferon gamma, varies by age, sex, and tissue type in asthmatics. Clinical Epigenetics; 2014, 6(9).

Lovinsky-Desir S, Folch C, Jung KH, Torrone D, Gil E, Perera F, Miller RL, Chillrud SN. Urban adolescents readily comply with a complicated asthma research protocol. Clinical Medicine Insights: Circulatory, Respiratory and Pulmonary Medicine; 2014, Mar 23 (8):5-9.