Berman Rosenzweig Team
Location and Contact Information
3959 Broadway
Morgan Stanley Children's Hospital, CH-2N
United States
Open location in Google Maps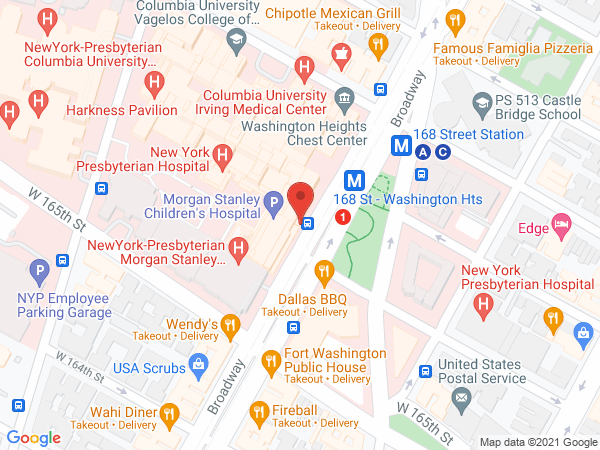 The Pulmonary Hypertension Research Team is committed to investigations that further our understanding of all forms of pulmonary vascular disease from omic signatures to advanced medical, interventional, and surgical treatments. We have a long history of investigation in the field dating back 30 years to the very first study which prompted the FDA approval of IV epoprostenol for pulmonary arterial hypertension (PAH). We have since been involved in most of the pivotal clinical trials that have led to FDA approval of 14 novel medical treatments for PAH. In close collaboration with our genetics colleagues, our team is on the forefront on genetic discovery in pulmonary hypertension, which also led to the very first known mutation in PAH and several subsequent genetic mutations. We also have close ties with our platinum status extracorporeal membrane oxygenation (ECMO) program and are focused on research on optimizing mechanical bridges for advanced pulmonary hypertension and right ventricular failure.
Lab Members
Usha Krishnan, MD

Associate Professor of Pediatrics

Wendy Chung, MD, PhD

Professor of Pediatrics and Medicine

Daniela Brady, FNP

Senior Research Nurse Practioner

Aisha Banks

Clinical Research Coordinator
Select Publications
Rosenzweig EB, Ivy DD, Widlitz A, Doran A, Claussen LR, Yung D, Abman SH, Morganti A, Nguyen N, Barst RJ. Effects of long-term bosentanin children with pulmonary arterial hypertension. J Am Coll Cardiol. 2005 Aug 16;46(4):697-704. PMID: 16098438

Takatsuki S, Rosenzweig EB, Zuckerman W, Brady D, Calderbank M, Ivy DD. Clinical safety, pharmacokinetics, and efficacy of ambrisentan therapy in children with pulmonary arterial hypertension. Pediatr Pulmonol. 2013 Jan;48(1):27-34. PMID: 22511577

Salna M, van Boxtel B, Rosenzweig EB, Bacchetta M. Modified Potts Shunt in an Adult with Idiopathic Pulmonary Arterial Hypertension. Ann Am Thorac Soc. 2017 Apr;14(4):607-609. PMID: 28362533

Berger RM, Haworth SG, Bonnet D, Dulac Y, Fraisse A, Galiè N, Ivy DD, Jaïs X, Miera O, Rosenzweig EB, Efficace M, Kusic-Pajic A, Beghetti M. FUTURE-2: Results from an open-label, long-term safety and tolerability extension study using the pediatric FormUlation of bosenTan in pUlmonary arterial hypeRtEnsion. Int J Cardiol. 2016 Jan 1;202:52-8. PMID: 26386921

Mechanical Support Development in Pulmonary Hypertension

Abrams D, Brodie D, Burkart K, Agerstrand C, Rosenzweig EB*, Bacchetta M. Upper-body extracorporeal membrane oxygenation as a strategy in decompensated pulmonary arterial hypertension. Pulm Circ 2013;3:432-5. PMID: 24015346

Rosenzweig EB, Brodie D, Abrams D, Agerstrand C, Bacchetta M. Extracorporeal membrane oxygenation as a Novel bridging strategy for acute right heart failure in group 1 pulmonary arterial hypertension. ASAIO Journal 2014;60:129-133. PMID: 24299971

Rosenzweig EB, Chicotka S, Bacchetta M. Right ventricular assist device use in ventricular failure due to pulmonary arterial hypertension: Lessons learned. J Heart Lung Transplant. 2016:Volume 35, Issue 10, Pages 1272–1274. PMID: 27569986

Chicotka S, Rosenzweig EB, Brodie D, Bacchetta M. The "Central Sport Model": Extracorporeal Membrane Oxygenation Using the Innominate Artery for Smaller Patients as a Bridge to Lung Transplantation. ASAIO J. 2016 Aug 22. [Epub ahead of print]] PMID: 27556148

Genetic Discovery in Pulmonary Vascular Disease

Rosenzweig EB, Morse JH, Knowles JA, Chada KK, Khan AM, Roberts KM, McElroy JJ, Juskiw NK, Mallory NC, Rich S, Diamond B, and Barst RJ. BMPR2 Mutations and Assessment of Children and Adults with Pulmonary Arterial Hypertension. Journal of Heart and Lung Transplantation. 2008; 27(6): 668-74. PMID: 18503968.

Ma L, Roman-Campos D, Austin ED, Eyries M, Sampson KS, Soubrier F, Germain M, Trégouët DA, Borczuk A, Rosenzweig EB, Girerd B, Montani D, Humbert M, Loyd JE, Kass RS, Chung WK. A novel channelopathy in pulmonary arterial hypertension.N Engl J Med. 2013 Jul 25;369(4):351-61. PMID: 23883380.

Zhu N, Gonzaga-Jauregui C, Welch CL, Ma L, Qi H, King AK, Krishnan U, Rosenzweig EB, Ivy DD, Austin ED, Hamid R, Nichols WC, Pauciulo MW, Lutz KA, Sawle A, Reid JG, Overton JD, Baras A, Dewey F, Shen Y, Chung WK. Exome Sequencing in Children With Pulmonary Arterial Hypertension Demonstrates Differences Compared With Adults.Circ Genom Precis Med. 2018 Apr;11(4):e001887. PMID: 29631995.

Zhu N, Welch CL, Wang J, Allen PM, Gonzaga-Jauregui C, Ma L, King AK, Krishnan U, Rosenzweig EB, Ivy DD, Austin ED, Hamid R, Pauciulo MW, Lutz KA, Nichols WC, Reid JG, Overton JD, Baras A, Dewey FE, Shen Y, Chung WK. Rare variants in SOX17 are associated with pulmonary arterial hypertension with congenital heart disease.Genome Med. 2018 Jul 20;10(1):56. PMID: 30029678.