Children's Board at Columbia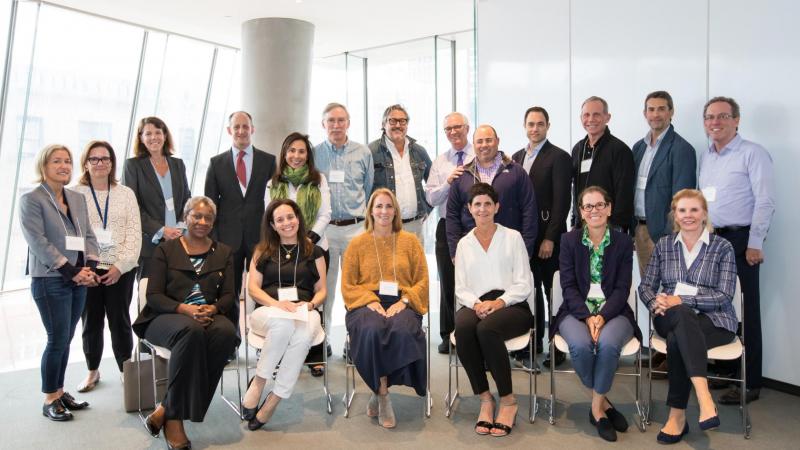 Inspired Care for Kids
At Columbia University Irving Medical Center (CUIMC) we are dedicated to our children and their families and to seeing them through any illness or injury. Our pediatric providers include some of the top specialists in children's health, with experience in treating the rarest and most complicated childhood conditions. Children and adolescents come here for care from all over the world, but we also serve as the local hospital for our community in Washington Heights-Inwood. At Columbia, every patient will find the doctors they need, working together in one place.
Our worldwide reputation for excellence is built on a strong tradition of medical research and education. The scientific discoveries we make here are built on real-world data gathered from the front lines of care, and on a continuous dialogue between our researchers and clinicians.
With 45 children's specialties here at CUIMC, 19 in the Department of Pediatrics, the Children's Board at Columbia helps us work across departments to address the needs of children across the medical center, throughout the New York area, and beyond.
Our board includes parents, former patients, donors, physicians and surgeons, faculty members, and representatives from an array of professions. We all share the common bond of a close personal commitment to Columbia University Children's Health and the belief that, like many of us, families will find the medical answers they are seeking here.
The Children's Board at Columbia proudly supports programs that make a difference in the lives of children every day. Our mission is to:
Serve as advocates, advisors, and ambassadors for a broad range of children's programs at Columbia University Irving Medical Center.
Support initiatives that advance the goals of Columbia University Children's Health: providing children and adolescents with the finest cutting-edge care, delivered with compassion and understanding, and access to new research and therapies.
For more information, please contact Natalie Schweizer, Director of Development, Columbia University Irving Medical Center, at 646-770-7763 or ns3468@columbia.edu.
Chair
Members
Gail Albert Halaban
Dana Baumgarten
Joshua Baumgarten
Deanna Berkeley
James Berkeley
Hillary Blumberg
Pamela Bowman
Scott Bowman
Tania Brief
Bhanu Choudhrie
Dhairya Choudhrie
Karina Choudhrie
Mindy Nam Dehnert
Erica Dewan
Andrew Ehrlich
Dana Farrington
Lee Galvis
Jeremy Gelber, MD
Pauline Gelber
Alex Ginsburg
A. Drew Goldman
Danielle Guarino
John Guarino
Boaz Halaban
Lee Helman
Dana Roberson Johnson
Joseph J. Johnson III
David Kaufthal
Lori Kaufthal
Karen Kennedy
Kevin W. Kennedy
Pamela W. Kernie
Jillian Marcus
Ariane Matschullat
Clare Matschullat
Robert Matthews
Sue Matthews
Elizabeth Moran
Michael Moran
Ellen Oppenheim
Jeffrey A. Oppenheim
Daphne Oz
Gabriela Palmieri (for the Choudhrie Family)
Alfredo Paredes-Goldfarb
Brad Paredes-Goldfarb
Jennifer I. Ratner, MD
Allan Reine
Amy Mulderry Reine
Amy Schulhof
Ben Seelaus
Sarah Seelaus
Alexander Silver
Jamie Silver
Brian Silver
John Workman
Faculty Leader
Jordan S. Orange, MD, PhD
Faculty Advisors
Anne Armstrong-Coben. MD
Emile Bacha, MD
Erika Berman Rosenzweig, MD
Wendy K. Chung, MD, PhD
Maria C. Garzon, MD
David P. Roye, Jr., MD, Emeritus
Barney Softness, MD
Lawrence R. Stanberry, MD, PhD
Steven Stylianos, MD
Michael Weiner, MD