Center for Allergic and Immune Disorders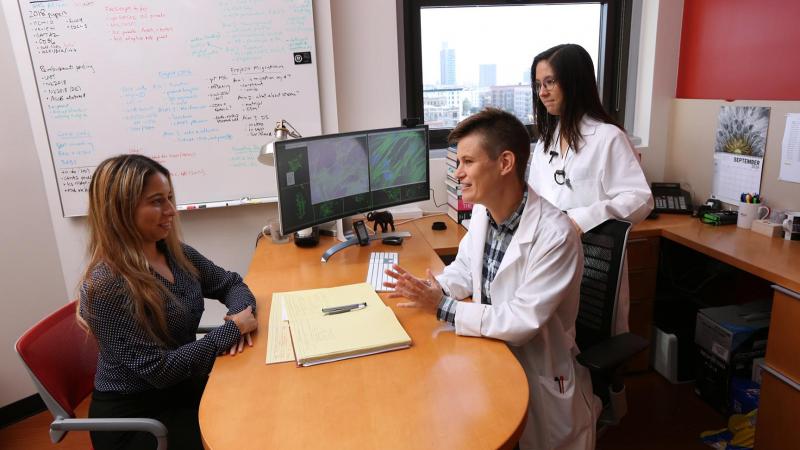 The Center for Allergic and Immunologic Disorders comprises the multidisciplinary clinical, research, educational, and programmatic efforts of multiple specialists and fields to comprehensively address allergic diseases of all sorts, as well as the varied manifestations of immunologic disorders. The Center includes Columbia University faculty from a variety of clinical specialties, physicians-scientists, and basic scientists. Within its umbrella are a number of major NIH-funded initiatives, clinical programs, research collaborations, and graduate and fellowship training. The Center's mission is to comprehensively address the needs of patients with allergic and immune disorders from a multidisciplinary clinical perspective, tightly incorporating research initiatives for novel treatments and the search for underlying causes of these diseases.
The Center includes the Division of Allergy, Immunology and Rheumatology as well as partners and collaborators from gastroenterology, genetics, pulmonology, basic immunology, and other specialty areas.
Primary Immune Regulation Disorders
Members of this team conduct research into inborn immune disorders, autoinflammation, and very early onset IBD, and treat patients with these conditions, including a multidisciplinary approach to curative hematopoetic stem cell transplants. Team members participate in regular patient-based case conferences to collaborate in clinical care and research for inpatient consults and outpatients. The team also participates in the  USIDNET research consortium and the PIDTC clinical research network. The team works actively to identify genetic conditions that may explain immune disorders of all sorts, regardless of severity. Collaborators include:
Hematology: Monica Bhatia, MD; Prakash Satwani, MD; Cindy Neunert, MD; Diane George, MD; Olatundun Williams, MD
Rheumatology: Alexis Boneparth, MD; Mark Gorelik, MD
Immunology: Josh Milner, MD; Ramsay Fuleihan, MD
Gastroenterology, Hepatology, and Nutrition: Joseph Picoraro, MD; Neal Leleiko, MD, PhD
Primary Immune Deficiencies
NewYork-Presbyterian Morgan Stanley Children's Hospital is one of only a handful of New York State-designated SCID Specialty Care Centers. We also offer diagnostic and therapeutic care for a wide array of immune deficiencies and are a major referral center. In addition, Dr. Jordan Orange's pioneering The NEAR Program, designed to investigate and treat NK cell related diseases, is a one-of-a-kind program. Partners from hematology work together with the team for coordinated care and to optimize patient outcomes in stem cell transplant, when necessary.
Hematology: Monica Bhatia, MD; Prakash Satwani, MD; Cindy Neunert, MD; Diane George, MD; Olatundun Williams, MD
Immunology: Josh Milner, MD; Ramsay Fuleihan, MD; Jordan Orange, MD, PhD; Emily Mace, PhD; Joyce Yu, MD
Asthma
Members of this cross-divisional team conduct research into causes and treatments for asthma and also care for patients with the condition. The team is a site in the National Institute of Allergy and Infectious Diseases's (NIAID) clinical research network, CAUSE and is a part of the NIH Environmental Influences on Child Health Outcomes (ECHO). Collaborators include:
Allergy: Joyce Yu, MD; Mervat Nassef, MD
Pulmonology: Stephanie Lovinsky-Desir, MD; Meyer Kattan, MD; Carin Lamm, MD
Department of Environmental Health Sciences, Mailman School of Public Health: Matthew Perzanowski, PhD
Primary Atopic Disorders
Primary atopic disorders represent inborn genetic diseases that lead to allergic diseases, from eczema to asthma, eosinophilic disease, mast cell disorders, food allergies, and beyond. Dr. Josh Milner's research team has discovered numerous PADs, and his team actively sees, treats, and researches patients with allergic diseases of all kinds due to known or suspected genetic changes.
Food Allergy and Eosinophilic Gastrointestinal Diseases
Through the Food Allergy program Columbia faculty members research causes and treatments for food allergies and care for children with food allergies. Program members also research eosinophilic esophagitis (EoE) and care for patients with this condition through the EoE clinic, staffed jointly with allergists and gastroenterologists. It also provides the backbone of the clinical and basic science research programs run by Dr. Dominique Bailey, a physician-scientist. Collaborators include:
Allergy: Joyce Yu, MD
Gastroenterology, Hepatology, and Nutrition: Dominique Bailey, MD
Kawasaki/MIS-C
Collaborators conduct clinical and research activities into Kawasaki disease and multi-inflammatory syndrome in children (MIS-C) and the relationship between the two conditions. The rheumatologists in this initiative include Mark Gorelik, MD, a physician scientist who studies both clinical entities, and Alexis Boneparth, MD who, along with Dr. Gorelik, helped provide the first report of MIS-C in the US, and who cares for large numbers of these patients.
Educational Activities
Members of the Center mentor graduate students, postdoctoral fellows, and clinical fellows from multiple specialties. The Division of Allergy, Immunology and Rheumatology also houses the Allergy/Immunology Clinical Fellowship. Center members frequently participate in community education programs, webinars, lectures and panels.