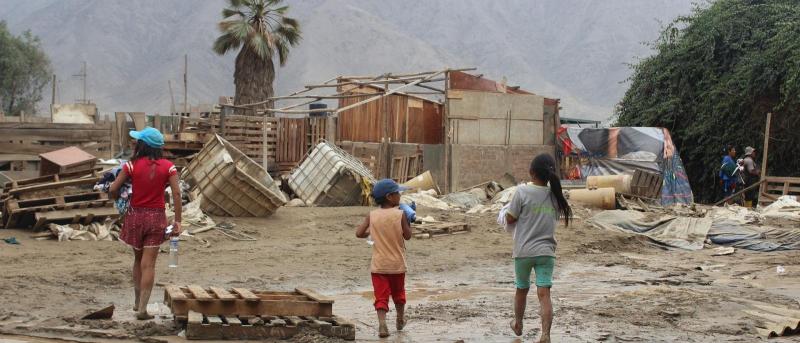 Columbia Pediatrics Hosts Colloquium on Children and Health Catastrophes
Children and adolescents experience dynamic development and are different from adults anatomically, cognitively, immunologically, physiologically, psychologically, and legally. During extreme events such as natural disasters, epidemic outbreaks, the release of weaponized infectious agents, or large-scale radioactive exposures, these differences make children more vulnerable than adults, and their care more complicated.
During a catastrophic event, for example, communication and transportation will likely be compromised, and children and adolescents – who spend much of their day in school settings – are likely to be isolated from their parents. It may not be clear who has the authority to initiate preventative and therapeutic care such as antibiotics and vaccines. Children and adolescents not only range in size but are smaller than adults and metabolize drugs differently, so the dosage of medical countermeasures to epidemic diseases or radioactive exposures cannot be extrapolated from adult data, and these countermeasures may not be available child-friendly formulations. In addition, children and adolescents are more susceptible to traumatic adverse events that can have long-term negative effects on health, social, and behavioral outcomes.
Despite these needs, no specific norms or protocols exist that address the care of children in the context of health catastrophes. To rectify this situation experts in pediatrics, bio-ethics, and related disciplines will come together at Columbia to refine the goals set by the 2014 Global Health Security Agenda so that they apply specifically to children. This work builds on the Children's Hospitals in Africa Mapping Project (CHAMP), which is assessing the readiness of pediatric institutions in 13 African countries to deal with catastrophic events, and which is led by Drs. Philip LaRussa, Lawrence Stanberry, and Wilmot James (assisted by Hannah Bender). The goal is ensure that countries have an acceptable level of pediatric readiness to deal with epidemics and other catastrophic events. 
On Monday April 8, the Department of Pediatrics at Columbia University Irving Medical Center hosted a colloquium where pediatric experts discussed the issues, and began to develop:
a founding White Paper on Children in Catastrophes.
the framework for the production of information and training materials for agencies and professionals involved in epidemic response and disaster management.
Children in Catastrophes
Monday April 8, 2019, 12-6pm
Vagelos Education Center, 104 Haven Avenue (off W. 168th), NY NY 10032
12:00: Registration/Coffee
12:10: Welcome
12:25-1:35: Evaluation and Treatment I
Moderator: F. Meridith Sonnett, MD
1:35-2:45 Evaluation and Treatment II
Moderator: Susan L. Rosenthal, PhD
2:45-3:00 Break
3:00-4:00 Ethical Considerations: Caring for Children/Conducting Research During a Catastrophe
Moderator: Robert Klitzman, MD
Philip Larussa, MD: Ethical considerations for research involving children in a catastrophe
George Hardart, MD: Ethical considerations for evaluation/treatment of children during a catastrophe in presence/absence of parents
4:00-5:30 Two Keynotes
Moderator: Wilmot James, PhD
Howard Zucker, MD: What are the State of New York's plans to care for children during a catastrophic event?
Carlos Navarro-Colorado, PhD: What are UNICEF's plans to care for children during a catastrophic event in the developing world?                                 
5:30-5:45 Closing Remarks: A White Paper on Children in Catastrophes  
Lawrence R. Stanberry, MD, PhD and Jordan Orange, MD, PhD