Thyyar M. Ravindranath, MBBS
Board Certifications:
Pediatric Critical Care Medicine, Pediatrics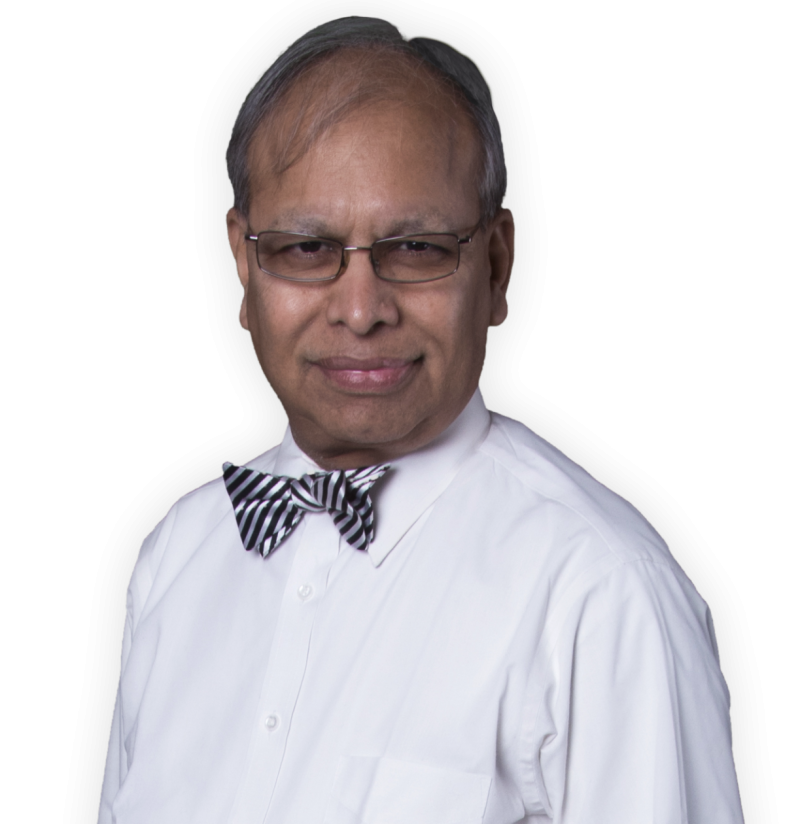 Overview
Areas of Expertise / Conditions Treated
Pediatric Critical Care Specialist
Academic Appointments
Assistant Professor of Pediatrics at CUMC
Administrative Titles
Wellness Champion for the Division of Pediatric Critical Care Medicine
I was trained both in General Surgery as well as as in General Pediatrics and Pediatric Critical Care Medicine. My clinical experience encompasses over 30 years as a Pediatric Critical Care Physician and presently spend time in Pediatric Neuro-Intensive Care Unit as an Attending Physician. I also attend on critically ill children in general pediatric critical care unit as well as in Pediatric Cardiac Care Unit. Our patient population consists of critically ill neuro, cardiac, pulmonary, transplant, trauma, cancer, Genetic Metabolic patients with complex medical issues. I'm trained in a wide variety of supportive therapy such as High Frequency Osciilation, Renal Replacement Therapy, Extracorporeal Membrane Oxygenation, the use of ultrasound in accessing blood vessels for vascular access. I was trained in the use of Indirect Calorimeter in assessing energy needs of critically ill as well as non-critically ill children. Burn-out is an important phenomenon that afflicts physician in general and particularly physicians working in Critical area. We conducted our 1st work shop on recognizing physician burn out and train them to acquire resilience. As a champion of wellness in critical care, I plan to conduct periodic assessment of physician burn out in our faculty and fellows that are undergoing training in critical care. We have introduced both burn-out scale as well as grit scale that would track the wellness of our faculty and traines. 
Hospital Affiliations
NewYork-Presbyterian/Columbia
NewYork-Presbyterian/Morgan Stanley Children's Hospital
Insurance Accepted
Aetna
EPO
HMO
Medicare Managed Care
NY Signature
NYP Employee Plan
POS
PPO
Signature Administrators
Student Health
Cigna
EPO
Great West
HMO
POS
PPO
Emblem/GHI
Medicare Managed Care
PPO
Emblem/HIP
ConnectiCare
EPO
Essential Plan
HMO
Medicaid Managed Care
Medicare Managed Care
POS
PPO
Select Care (Exchange)
Vytra
Empire Blue Cross Blue Shield
EPO
Medicare Managed Care
PPO
Medicare
Traditional Medicare (NY)
MVP Health Care
Child/Family Health Plus
Essential Plan
HMO
Medicaid Managed Care
UnitedHealthcare
Columbia University Employee Plan
Compass (Exchange)
HMO
Medicaid (Community Plan)
Medicare Managed Care
POS
PPO
*Please contact the provider's office directly to verify that your particular insurance is accepted.
Credentials & Experience
Education & Training
Kilpauk Medical College, Madras University (India)
Internship: Cook County Children's Hospital, Chicago, IL
Residency: Cook County Children's Hospital, Chicago, IL
Fellowship: Children's Medical Center - Dallas, TX
Board Certifications
Pediatric Critical Care Medicine
Pediatrics
Honors & Awards
2009: New York-Presbyterian, Morgan Stanley Children's Hospital, Columbia University Medical Center, Department of Nursing, Physician of the Year Awards.
1992-2004: Multiple Teaching Awards by Resident Physicians
Research
My research interest includes immune response following sepsis in rodent models as well as in critically ill pediatric patients. I have worked over the past 25 years studying the role of gastrointestinal associated lymphoid tissue (GALT) in sepsis and burn injury, the relation between coagulopation and inflammation in sepsis and Systemic Inflammatory Response (SIRS) and the role of aldo-ketoreductase Aldose Reductase (AR) in inducing lung injury following septic peritonitis. We have used various techniques to induce septic inflammatory response in both adult as well as rodent pups. These techniques included intra-peritoneal administration of bacteria, lipopolysachharide (LPS), and insertion of rodent fecal pellets containing bacteria into the peritoneal cavity to induce peritonitis as well as cecal ligation and puncture to induce septic peritonitis. My research included working with transgenic adult mice to understand how they differed from their wild type counterparts in their cardiovascular and pulmonary responses following septic peritonitis. In addition, I'm involved in translational research involving pediatric patients. We have investigated the role of peripheral neutrophil AR expression on the outcome in pediatric patients admitted to pediatric critical care unit in acute respiratory failure within the first 24 hours of admission. Another translational ongoing research project involves investigating the role of lymphocytes in viral lower respiratory tract infection is helping us to understand the lung adaptive immunological response following viral inflammation and contrast that with bacterial inflammation that I have studied in the past few years.
In the recent past I have developed my interest in critical care nutrition by working with PCCU nutritional support group and developed PICU enteral nutrition guidelines to be used in both Komansky and Morgan-Stanley Children's Hospital campuses. We have introduced Indirect Calorimeter (IC) in assessing the resting energy expenditure (REE) in critically ill children which has helped us to tailor appropriately nutritional needs of critically ill children. We have extended IC use to patients admitted to pediatric floor as well as outpatients. We have undertaken outcome studies in this area.
Research Interests
pediatric nutrition
infant immunity
Grants
DEVELOPMENT OF LUNG T CELL RESPONSES IN INFANT RESPIRATORY IMMUNITY (Federal Gov)

Aug 20 2012 - Jul 31 2017
Selected Publications
1. Connors TJ, Baird JS, Yopes MC, Zens KD, Pethe K, Ravindranath TM, Ho SH, Farber DL. Developmental Regulation of Effector and Resident Memory T Cell Generation during Pediatric Viral Respiratory Tract Infection. J Immunol. 2018; 201:432-439.
2. Ravindranath TM, Gomez A, Harwayne-Gidansky I, Connors TJ, Neill N, Levin B, Howell JD, Saiman L, Baird JS. Pediatric acute respiratory distress syndrome associated with human metapneumovirus and respiratory syncytial virus. Pediatr Pulmonol. 2018; 53:929-935.
10. Ravindranath TM. Comment on Models in Medicine. Int J Yoga. 2017; 10:110.
3. Thomas J Connors, Thyyar M Ravindranath, Kara L Bickham, Claire L Gordon, Feifan Zhang, Bruce Levin, John S Baird, Donna L Farber. Airway CD8+ T-cells are Associated with Lung Injury During Infant Viral Respiratory Tract Infection. Am J Respir Cell Mol Biol. Am J Respir Cell Mol Biol. 2016; 54:822-30.
4. Hugh J. Ladd, Qin Wang, Phyllus Y. Mong, Thyyar M. Ravindranth*, J. Scott Baird. A Pilot Study of Peripheral Blood Neutrophil Aldose Reductase Expression in Pediatric Sepsis. Asian J Clin Pediatr Neonatol, 2014; 2:1-4.
5. Nawathe PA, Ravindranath TM, Satwani P, Baird JS. Severe hemorrhagic coagulopathy with 3. hemophagocytic lymphohistiocytosis secondary to Epstein-Barr virus-associated T-cell lymphoproliferative disorder. Pediatr Crit Care Med. 2013; 14:e176-181.
6. Baird JS, Havalad V, Aponte-Patel L, Ravindranath TM, October TW, Starc TJ, Smerling AJ.Nitric oxide-associated pulmonary edema in children with pulmonary venous hypertension. Pediatr Cardiol. 2013; 34:817-825.
7. Baird JS, Ravindranath T M. Out-of-hospital non-invasive ventilation: epidemiology, technology and equipment. Pediatric Reports 2012; 4:e17.
8. Srinivasan Vedantham, HyeLim Noh, Radha Ananthakrishnan, Kellie Hallam, Yunying Hu, Shuiqing Yu, Xiaoping Shen, Rosa Rosario, Yan Lu, Thyyar Ravindranath, Konstantinos Drosatos, Lesley Ann Huggins , Ann Marie Schmidt, Ira J Goldberg, R. Ramasamy. Human Aldose Reductase Expression Accelerates Atherosclerosis in Diabetic apoE-/- Mice. Arteriosclerosis, thrombosis, and vascular biology. 2011; 31:1805-1813.
9. Baird JS, Buet A, Hymes SR, Ravindranath TM, Zackai S, Cannon JM, Messina M, Sury J, Green R, Della-Latta P, Jenkins SG, Greenwald BM, Furuya EY, Graham PL 3rd, Sonnett FM, Platt S, DeLaMora P, Saiman L. Comparing the clinical severity of the first versus second wave of 2009 Influenza A (H1N1) in a New York City pediatric healthcare facility. Pediatr Crit Care Med. 2012 Jul;13(4):375-80.
10. Yolanda Miroballi, J. Scott Baird, Sheemon Zackai, Jean-Marie Cannon, Maria Messina, RN;Thyyar Ravindranath,Robert Green, Phyllis Della-Latta, Stephen Jenkins, Bruce M. Greenwald, E. Yoko Furuya, Philip L. Graham III, F. Meridith Sonnett, Shari Platt, Patricia DeLaMora, Lisa Saiman. Pandemic Influenza A H1N1 (SO) in Hospitalized Children in New York City: Clinical Presentations during the first wave. Arch Pediatr Adolesc Med. 2010;164:24-30.
11. T. M. Ravindranath, Phyllus Y. Mong, Radha Ananthakrishnan, Qing Li, Nosirudeen Quadri, Ann Marie Schmidt, Ravichandran Ramasamy, and Qin Wang. Novel role for aldose reductase in mediating acute inflammatory responses in the lung. J Immunol 2009; 183:8128-8137.