Kara G Gross Margolis, MD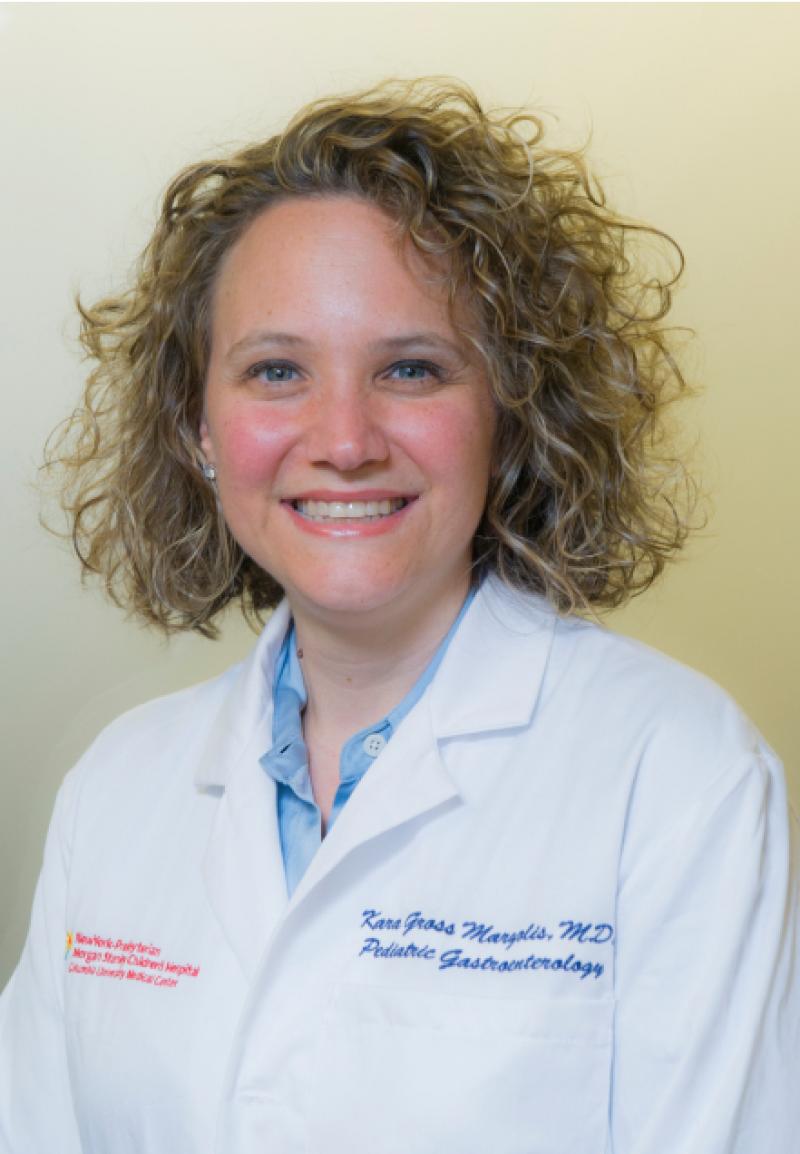 Overview
Kara Gross Margolis, MD is an Associate Professor of Pediatrics and a pediatric gastroenterologist with a clinical expertise in brain-gut axis disorders, and particularly autism spectrum disorders (ASD). She has published highly novel observations on the roles that enteric neurotransmitters, specifically serotonin and oxytocin, play in enteric nervous system (ENS) development and how, when signaling of either of these neurotransmitters is abnormal, result in intestinal inflammation and/or motility dysfunction. She has more recently leveraged her expertise to study disorders of the brain-gut axis from the perspective of the ENS. Her studies in this area thus far have focused on two disorders that have been classically thought of as central nervous system (CNS)-centric, ASD and developmental antidepressant (selective serotonin reuptake inhibitor; SSRI) exposure. Her overall goals are to pursue translational research that interrogates basic mechanisms underlying important clinical conditions, in order to utilize this knowledge to develop novel therapeutic strategies.
Areas of Expertise / Conditions Treated
Abdominal Pain
Clinical Research
Constipation
Diarrhea
Eosinophilic Esophagitis
Inflammatory Bowel Disease (IBD)
Academic Appointments
Associate Professor of Pediatrics
Hospital Affiliations
NewYork-Presbyterian Morgan Stanley Children's Hospital
NewYork-Presbyterian / Columbia University Irving Medical Center
Schedule an Appointment
Connect Patient Portal
For existing patients, login to make an appointment, view documentation or contact your care provider.
Insurance Accepted
Medicare
Railroad
Traditional Medicare
UnitedHealthcare
Columbia University Employee Plan
*Please contact the provider's office directly to verify that your particular insurance is accepted.
Credentials & Experience
Education & Training
State University of New York at Buffalo
Residency: Montefiore Medical Center & Albert Einstein Medical College
Fellowship: Children's Hospital of Boston
Board Certifications
Pediatric Gastroenterology
Research
The goal of Dr. Margolis' research is to understand the enteric nervous system (ENS) and disorders that have in common an effect both on the brain and the gut, sometimes referred to as the "brain-gut axis". She has published novel observations on the roles that enteric neurotransmitters (specifically serotonin and oxytocin) play in ENS development and how signaling from such neurotransmitters may, when abnormal, result in gastrointestinal (GI) disorders such as inflammatory bowel disease (e.g., Crohn's disease and ulcerative colitis), motility dysfunction (e.g., chronic constipation or irritable bowel syndrome) and necrotizing enterocolitis (a devastating intestinal inflammatory disorder primarily of preterm infants). This research has recently provided important insights into how abnormalities of the ENS can arise in children with brain-gut axis disorders such as autism, antenatal antidepressant exposure and irritable bowel syndrome.
Research Interests
Autism spectrum disorders
Brain-gut axis
Enteric nervous system development
Enteric oxytocin
Enteric serotonin
Selected Publications
Select Primary Publications
Margolis KG**, Vittorio J, Talavera M, Li ZS, Stevanovic K, Saurman V, Gluck K, Israelyan N and Gershon MD. Enteric Serotonin and Oxytocin: endogenous Regulation of severity in a murine Model of Necrotizing Enterocolitis". American Journal of Physiology. Published 3 August 2017. DOI: 10.1152/ajpgi.00215.2017
Margolis KG*, Li ZS, Stevanovic K, Saurman V, Blakely R, Veenstra-Vanderweele J, Israelyan N, and Gershon, MD. Modulation of SERT leads to alterations in Enteric Nervous System Development and Gastrointestinal Functions: Implications in Autism and SSRI Exposure. J Clin Invest. 2016;126(6):2221- 2235.*corresponding author
Margolis KG, Gershon MD and Bogunovic M. Cellular Organization of Neuro-Immune Interactions in the GI Tract. Trends Immunol. (Cell Press) 2016 Jul;37(7):487-501.
Margolis KG, Stevanovic K, Yang Q, Oravecz T, Diacou A, Gershon M. Pharmacological reduction of mucosal but not neuronal serotonin opposes inflammation in mouse intestine. Gut 2014 Jun;63(6):928-37.
Margolis KG, Stevanovic KD, D'autreaux F, Li ZS, Chalazonitis A, and Gershon MD. Enteric Neuronal Development as a Determinant of Intestinal Inflammation. Gastroenterology. 2011 Aug;141(2):588-598.
D'autreax F & Margolis KG, Morika Y Csejesi P, Ahuja A and Gershon M. Characterization of the Enteric Nervous System in the Hand2 Haploinsufficient Mouse. Gastroenterology 2011 Aug;141(2):576-587.
Select Collaborative Publications
Paul Andrew Muller, Balázs Koscsó, Gaurav Manohar Rajani, Korey Stevanovic, Marie-Luise Berres, Daigo Hashimoto, Arthur Mortha, Xiu-Min Li, Daniel Mucida, E. Stephanie Dahan, Kara Gross Margolis, Michael Gershon, Miriam Merad, Milena Bogunovic. Crosstalk between Muscularis Macrophages and Enteric Neurons Regulates Gastrointestinal Motility. Cell 2014; 158(2):300-13.
Gross ER, Gershon MD, Margolis KG, Gertsberg ZV, Cowles RA. Neuronal Serotonin Regulates Growth of the Intestinal Mucosa in Mice. Gastroenterology 2012 Aug;143(2):408-1.
Li Z, Chalazonitis A, Huang YY, Mann JJ, Margolis KG, Yang QM, Kim DO, Côté F, Mallet J, Gershon MD. Essential roles of enteric neuronal serotonin in gastrointestinal motility and the development/ survival of enteric dopaminergic neurons. J Neuroscience 2011 Jun 15;31(24):8998-9009.
Li Z, Caron M, Blakely R, Margolis K, Gershon M. Dependence of serotonergic and other nonadrenergic enteric neurons on norepinephrine transporter expression. J Neuroscience 2010 Dec 8;30(49):16730-40.