Department of Pediatrics Annual Report – 2020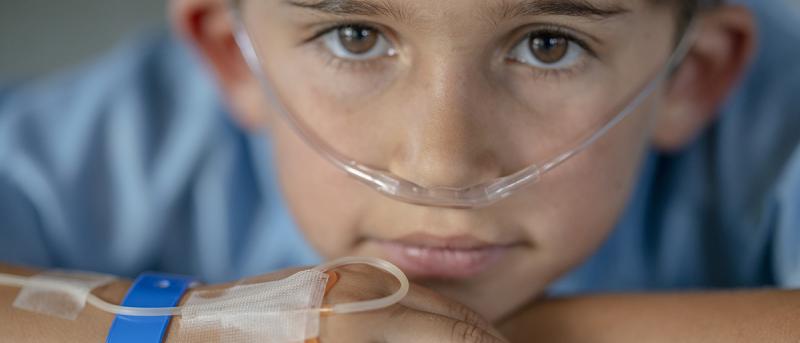 Critical Care and Hospital Medicine
The best outcomes for the most complex cases
The Division of Critical Care and Hospital Medicine provides exemplary, evidence-based, multidisciplinary critical care to the most medically vulnerable children in the greater New York City area and beyond. We do this in a setting that is distinct for its cutting-edge extramurally supported research and its commitment to providing the most comprehensive training available to the next generation of leaders in pediatric critical care and hospital medicine.
In 2020, the division expanded from a sole focus on critical care medicine to include sections of hospital medicine and palliative care medicine and the Center for Host-Pathogen Interactions. These groups work together to take care of the sickest and most vulnerable patients seen at NewYork-Presbyterian Morgan Stanley Children's Hospital and they lead cutting-edge basic and translational research.
---
Critical Care Medicine
The section of Critical Care Medicine includes three clinical services, each with a designated medical director and specialized staff.
A 14-bed cardiovascular intensive care unit (CVICU) for postoperative congenital heart surgery patients beyond the newborn period, as well as heart failure patients peri-transplant
A general 13-bed pediatric intensive care unit (PICU) for a variety of general PICU patients, with a focus on severe respiratory failure, solid organ transplant recipients, and stem cell transplant recipients
A 14-bed pediatric neuro ICU for our level-one pediatric trauma program, postoperative spine and brain surgery patients, and those with complicated epilepsy, stroke, and primary neuromuscular disease
We care for approximately 50 extracorporeal membrane oxygenation (ECMO) cases per year in the CVICU and the general PICU. The ECMO program was recently renewed for platinum status by ELSO (Extracorporeal Life Support Organization). PICU admissions currently total about 2,100 per year.
---
Hospital Medicine
The section of Hospital Medicine is comprised of two clinical services:
The general pediatric inpatient service team, which supervises care provided to patients with a variety of illnesses, including medical consultation for medical subspecialty and surgical services
The hospitalist-run progressive care unit (opened in 2019) for patients with a variety of surgical and medically complex issues, including those chronically ventilated with tracheostomies
Palliative Care
The Palliative Care Service, created in 2020, consults on children with complex chronic conditions and potentially life-limiting diagnoses to facilitate communication, engage in advocacy for the most medically vulnerable, provide an additional layer of support, and to offer expert pain and symptom management using advanced and unique treatment modalities.
---
Center for Host-Pathogen Interaction
The Center for Host-Pathogen Interaction is a collaboration between the laboratories of Anne Moscona, MD and Matteo Porotto, PhD. Drs. Moscona and Porotto together conduct basic research on paramyxoviruses, RNA viruses that are responsible for acute respiratory illnesses prevalent in childhood. The collaboration draws upon strategies and methods from molecular biology, cell biology, biophysics, immunology, computational biology, structural biology, and virology.
---
New Appointments
---
New Programs
---
Honors and Awards
SCCM Start Research Achievement, 2020
Anesthesia Academic Evening, 2019
MSCH Physician of the Year, 2018
Driscoll Scholar (CUIMC), 2019
Elected to Society for Pediatric Research, 2019
Gerstner Scholar (CUIMC), 2018
Academy of Clinical Excellence, 2019
Presidential Citation, American Society of Bioethics and Humanities, 2018
Elected to Society for Pediatric Research, 2018
---
Major Grants
The role of ApoE in injury-induced neurogenesis. NIH/NINDS; R01 NS095803. Principal Investigator: S. Kernie.
Host-pathogen interactions that promote carbapenem-resistant Klebsiella pneumoniae pulmonary infection. NIH/NHLBI; K08HL138289. Principal Investigator: Danielle Ahn.
Dysregulation in the airways of children with viral respiratory tract infection. Louis V. Gerstner Jr. Merit Award. Principal Investigator: Thomas Connors.
Effects of iron deficiency on early life immune development. Integrating Special Populations Pilot Grant, CTSA. Principal Investigator: Thomas Connors.
Development of localized T cell immunity in pediatric respiratory tract infection. NIH/NIAID; K23AI141686. Principal Investigator: Thomas Connors.
Targeted approach to lung repair and regeneration in alveolar type II cell disease. Discovery Award, Department of Defense; PR180834. Principal Investigator: Valerio Dorrello.
Center for Research on the Ethical, Legal and Social Implications of Psychiatric, Neurologic and Behavioral Genetics. National Human Genome Research Institute (NHGRI); 2RM1HG007257-06 (Applebaum). Co-Investigators: George Hardart, Marilyn Morris.
Mitochondrial mechanisms underlying alveolar-capillary barrier regulation. Parker B. Francis Fellowship. Principal Investigator: Rebecca Hough.
The Hippo pathway in mechanical stretch-induced acute lung injury. Department of Pediatrics Innovation Nucleation Fund, 2020 Basic/Translational Research Award. Principal Investigator: Rebecca Hough.
Selected Publications
Cheung EW, Zachariah P, Gorelik M, Boneparth A, Kernie SG, Orange JS, Milner JD. Multisystem inflammatory syndrome related to COVID-19 in previously healthy children and adolescents in New York City. JAMA. Published online June 8, 2020. PMID 32511676.
Tensaouti Y, Stephanz EP, Yu TZ, Kernie SG. ApoE regulates the development of adult newborn hippocampal neurons. eNeuro. 2018 July/August, 5(4) e0155-18.2018 1-15. PMID 30079373. Accompanied by press release from the Society of Neuroscience (https://www.eurekalert.org/pub_releases/2018-07/sfn-arg072618.php)
Ahn D, Wickersham M*, Riquelme SA, Prince A. The effects of IFN-λ on epithelial barrier function contribute to K. pneumoniae ST258 pneumonia. Am J Respir Cell Mol Biol. 2019 Feb; 60(2): 158-186. PMCID: PMC6376406.
Edwards JD, Panitch HB, Nelson JE, Miller RL, Morris MC. Decisions for long-term ventilation for children. Perspectives of family members. Annals of the American Thoracic Society. 2020 Jan; 17(1): 72-80.
Koncicki ML, Zachariah P, Lucas AR, Edwards JD. A multi-institutional analysis of children on long-term non-invasive respiratory support and their outcomes. Pediatric Pulmonology. 2018; 53(4): 498-504.
Aponte-Patel L, Salavitabar A, Fazzio P, Geneslaw AS, Good P, Sen A. Implementation of a formal debriefing program after pediatric rapid response team activations. Journal of Graduate Medical Education. 2018 April; Volume 10 (2): 203-208.
Hough RF, Islam MN, Gusarova GA, Jin G, Das S, Bhattacharya J. Endothelial mitochondria determine rapid barrier failure in chemical lung injury. JCI Insight. 2019; 4: e124329.
Carey AS, Schacht JP, Umandap C, Fasel D, Weng C, Cappell J, Chung WK, Kernie SG. Rapid exome sequencing in PICU patients with new onset metabolic or neurological disorders. Journal of Pediatric Research. Published online: 2020 March 27. PMID 32221475.
Weisberg SP, Connors TJ, Zhu Y, Baldwin MR, Lin WH, Wontakal S, Szabo PA, Wells SB, Dogra P, Gray J, Idzikowski E, Stelitano D, Bovier FT, Davis-Porada J, Matsumoto R, Li Poon MM, Chait M, Mathieu C, Horvat B, Decimo D, Hudson KE, Dei Zotti F, Bitan ZC, La Carpia F, Ferrara SA, Mace E, Milner J, Moscona A, Hod E,  Porotto M, Farber DL. Distinct antibody responses to SARS-CoV-2 in children and adults across the COVID-19 clinical spectrum(link is external and opens in a new window). Nat Immunol. 2020 Nov 5. 
Outlaw VK, Bovier FT, Mears MC, Cajimat MN, Zhu Y, Lin MJ, Addetia A, Lieberman NAP, Peddu V, Xie X, Shi PY, Greninger AL, Gellman SH, Bente DA, Moscona A, Porotto M. Inhibition of coronavirus entry in vitro and ex vivo by a lipid-conjugated peptide derived from the SARS-CoV-2 spike glycoprotein HRC domain. mBio. 2020 Oct 20; 11(5): e01935-20. 
---
Highlights
Scientists at Columbia University have developed a treatment that blocks the virus in the nose and lungs, is inexpensive and needs no refrigeration.
---
A NewYork-Presbyterian pediatrician explains the new illness and the symptoms parents should look for.
---
Children who arrive in the pediatric intensive care unit (PICU) often come with serious and complex health conditions, and with parents and other family members who are fearful, but hopeful. Caring for families through these extreme and challenging moments inspired Rebecca Hough, MD, PhD to pursue pediatric critical care medicine and become a "pediatric intensivist." 
---
A Q&A with Dr. Max Lindeman